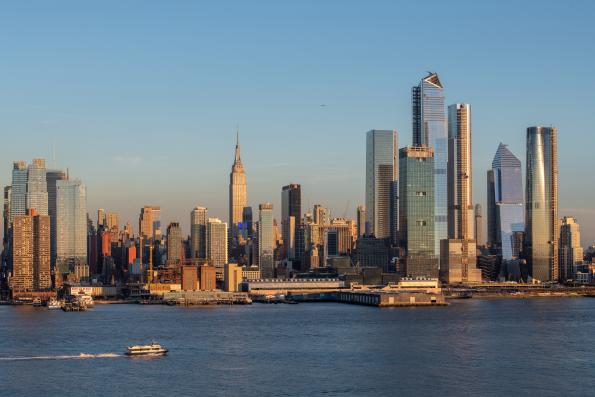 The Finest in NYC Venues & Hotels
Dear Members and Tourism Partners,

This is a detailed update with lots of information to share. As I write this note to you, I'm in Europe to spearhead two long-planned press and trade events in London and Paris, two of our top international markets. The events are very well attended and appreciated in market. Our meetings team led by Jerry Cito is in Brazil this week on a planned sales mission. We feel strongly it is important to continue messaging the resiliency of NYC, especially now.

At a time when things seem to change by the day and even the hour, we know that timely updates and transparency are essential, so we have another update for you here:
To date there has been one confirmed case of the virus here in NYC. The person is in isolation and being carefully monitored. It is important to highlight there are no current advisories against travel to and within the United States and there have been no cancellations of citywide events, trade shows or conventions at the Javits Center. While there have been cancellations of some meetings at hotels across the City, along with softening transient business travel, the City remains open for business with normal flu-season precautions advised for travelers.

 

A significant takeaway from today's press conference by the Governor and Mayor is a statement by Commissioner Oxiris Barbot of the NYC Department of Health and Mental Hygiene: "We want New Yorkers to go about their daily lives, ride the subway, take the bus, go see your neighbors. The important thing, as both the Mayor and the Governor have said, we want New Yorkers to lean even more into frequent handwashing and covering their mouths and their noses. And if you can't get to a water source, make alcohol-based hand sanitizer your new best friend."

 

According to the latest forecast data from our research partner Tourism Economics, an Oxford Economics Company, and based on the current state of affairs, which is still very fluid and subject to change, the outlook for NYC tourism still shows overall visitation growth by year's end but has been revised downward given the current situation. The expectation is a period of weakness concentrated in March, April and May as the virus and economic volatility play out around the globe. Predicated on past scenarios including the SARS epidemic, the decline should be followed by a sharp rebound when demand returns. In this case, we are hopeful that the recovery will coincide with the summer season.

 

With a rebound in summer, again based on the current state of affairs, the expectation at this moment is that growth will slow to 2% in 2020, which would result in an estimated 68 million visitors this year, up from 66.6 million last year. Domestic is still expected to grow approximately 3%, but we will see overall contraction in international arrivals of -1.3%. We estimate China will drop nearly 26% and Asia overall will go down 12% with declines also expected from both South Korea and Japan. Europe, still half of the international market, will show modest growth of nearly 2%, while South America will be largely flat to marginally up.
A New York Times story, just published last night, summarizes the current business situation and the tourism outlook. We are sharing the link so you can see NYC & Company's messaging as part of that story.

In response to the situation, we are focusing on the following three-pronged approach:
Continuation of all ongoing promotional activity:
As you may know, we are currently running our largest-ever global direct-to-consumer ad campaign, targeting 25 international markets. That messaging is ongoing, much of it in partnership with trade partners with attractive packages. The Famous Original New York City campaign reinforces our message of welcome utilizing iconic Statue of Liberty imagery.

 

Ongoing digital and social media outreach continues with a robust "always on" strategy targeting consumers who are predisposed to visit NYC.

 

Though travel remains largely restricted from China, we continue to deliver a message of support while providing ongoing inspirational NYC content. Keeping the conversation active with consumers will ensure a quicker recovery when the situation subsides.

 

We continue to engage with the travel trade and meeting planners. While ITB Berlin, set to take place this week, was canceled on Friday by the organizers, the tourism team just returned from a successful trade and media mission in Australia and New Zealand, while the convention and meetings team are currently in Brazil as planned selling NYC to meeting and event planners.

 

In addition to this week's European press events, the Global Communications team continues to host international media in the five boroughs. Domestically, the team will launch a LA media mission next week to stimulate "earned media" from a key long-haul domestic market.
"Keep Exploring NYC" initiative:
To encourage locals and visitors to keep exploring the five boroughs during this time of increasing anxiety, we are increasing the frequency and promotion of events going on today, this week and this weekend to remind everyone to be mindful but keep exploring. Half of our visitors each year are day-trippers, and we want to call on them more to experience all our city has to offer. As you would expect, we will do this while providing normal flu season tips and advice to travelers to ensure they can have a safe and enjoyable visit. Use the hashtag #KeepExploringNYC throughout your social channels, especially with exhibitions and current offerings.

 

Focusing on the City's robust calendar of arts and cultural events as stimulus, we will redeploy digital and social media budgets to focus even more on this important tristate visitor segment. We will also expand our already strong publicity efforts to communicate all that's going on now to create urgency to visit and explore NYC now.
Highlights of a Tourism Recovery Plan in Development:
As the situation evolves each day, we are also already looking ahead to ensure that we can capitalize on visits when the global coronavirus situation subsides. Best estimate at this point is that we could be transitioning to recovery in 2–3 months. Our "bounce-back" strategy will focus on stimulating the market as much as possible to boost travel in 2020 taking advantage of pent-up demand, stimulus pricing and packages from airlines and trade partners and new promotion. There will be a particular focus on recapturing current losses from China.

 

Along with the summer version of NYC & Company's monthlong NYC Restaurant Week program, we will also have other initiatives in place to inspire travel "now."

 

A May 1 press conference in NYC will promote what's new and noteworthy, targeting key domestic media and international correspondents who are based here in the "media capital of the world."

 

IPW: NYC & Company will of course attend this year's show in Las Vegas and host another NYC Broadway Lunch as well as a press conference to promote 2020 travel to international tour operators and media.
We will provide more details on our current and future plans as well as the latest research information at the upcoming NYC & Company Annual Meeting on March 23.

Remember to bookmark our resources page where you will find a current holding statement that can be shared with clients and partners. Also please continue to keep us updated on effects on your business by filling out the survey that was shared with you in last week's update if you haven't already.

Thanks for your continued engagement and support during this challenging time. Please be assured that we are focused on protecting visitation and stimulating the market in whatever way we can, while keeping in mind the need to ensure visitors and New Yorkers are safe and protected. I am confident that working together, NYC will rise to the challenge and continue to welcome the world.

Best,

Fred Dixon
President and CEO
NYC & Company
Sign Up for NYC & Company Coronavirus Updates