One of the most appealing reasons for planners to book New York City is for the City's wealth of history and culture.Your attendees will never forget meeting at the world-famous Apollo Theater, where music legends like Ella Fitzgerald and Jimi Hendrix got their start, or sipping a cocktail in the gilded lobby of one of MGM's movie palaces. Here are 12 inspiring clubs, theaters and landmark buildings, each with its own historical character, that are available for your next event.

3 West Club
3 W. 51st St., Midtown West, Manhattan
The neo-Georgian Women's National Republican Club was established in 1934 on the site of Andrew Carnegie's 51st Street mansion. The club is decorated with oil paintings of its founder, Henrietta Wells Livermore, and Ruth Baker Pratt, New York's first congresswoman, as well eclectic items like a needlepoint sampler of George Washington and antique porcelain elephants. The building was added to the National Register of Historic Places in 2013. Six spaces are available for private events, including the Grand Ballroom, which can accommodate up to 350 attendees; the 1,564-square-foot Grand Salon, for events of up to 250; and the gorgeous ninth-floor solarium, which can hold 130.
Total event space: 7,000 square feet

Apollo Theater
253 W. 125th St., Harlem, Manhattan
This legendary Harlem theater debuted in 1914 as Hurtig & Seamon's New Burlesque Theater before being renamed and opened to African-American patrons in 1934. The Apollo launched the careers of many musical luminaries and comedy legends and features two spaces for private events: the 1,500-seat Mainstage, which was completely renovated in 2005, and the 1,680-square-foot Soundstage, a flexible space that can accommodate up to 225 attendees.
Total event space: 4,891 square feet

BAM (Brooklyn Academy of Music)
30 Lafayette Ave., Fort Greene, Brooklyn
Opened in its present location in Brooklyn's Fort Greene Historic District in 1908, the Academy is known for its Next Wave Festival, which began in 1983 and has over the years featured an eclectic lineup of performers that includes Philip Glass, Seal and Alice in Chains. BAM comprises several performing arts spaces, including the Beaux-Arts Howard Gilman Opera House, which can host events for up to 2,090 attendees; BAM Harvey, an 874-seat theater named one of the 15 most spectacular theaters in the world by CNN; and Lepercq Space, a ballroom turned flexible performance space that can accommodate 150 to 325. In all, BAM has seven indoor and outdoor spaces available for private functions.
Total event capacity: 2,090 attendees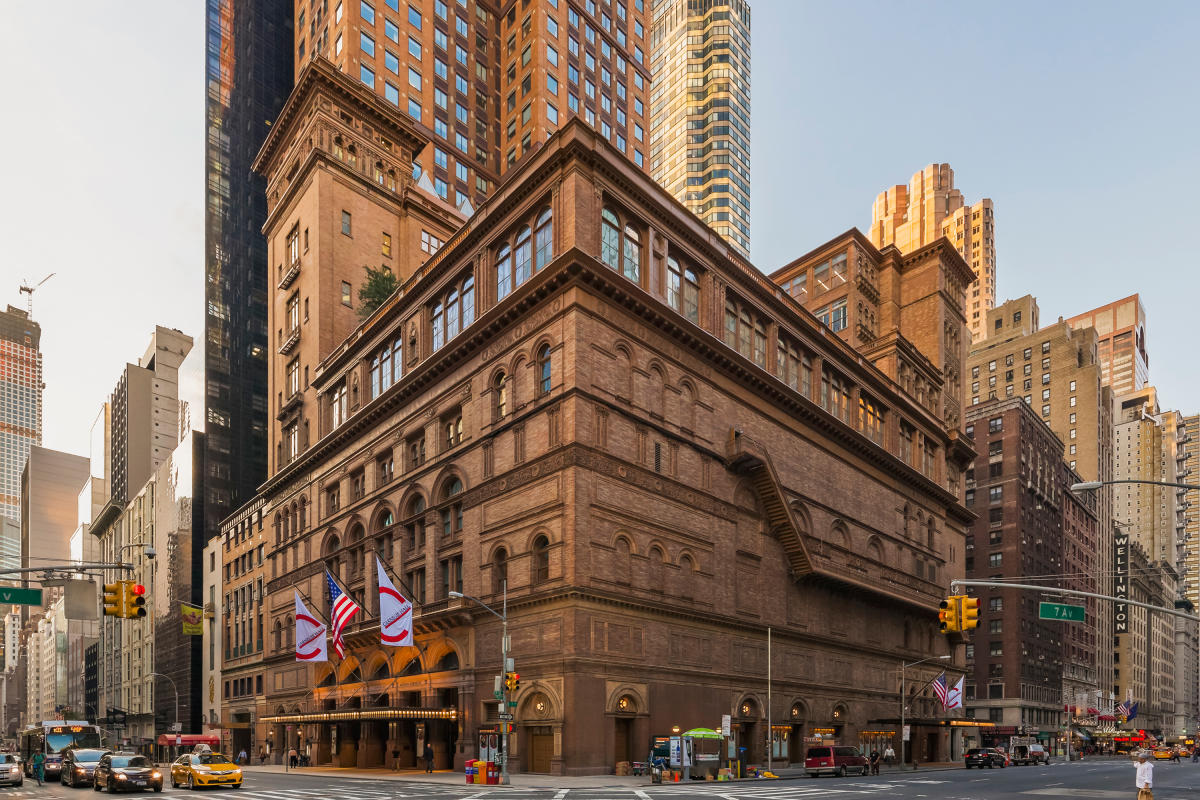 Carnegie Hall. Photo by Jeff Goldberg/Esto​.

Carnegie Hall
57th St. and Seventh Ave., Midtown West, Manhattan
The iconic Manhattan performance space, which opened in 1891, has welcomed legends like Maria Callas, Billie Holiday and the Beatles during its long reign as one of the City's premier theaters. There are five spaces available for private events, including the 10th floor Weill Music Room, which offers skyline views and accommodates up to 200 attendees, and the wood-and-brass paneled Shorin Club Room and Rohatyn Room, which together can hold as many as 299 guests and may be rented out separately for smaller events. The Hall is closed annually from July to September.
Total event space: 5,773 square feet

Grand Central Terminal's Vanderbilt Hall
89 E. 42nd St., Midtown East, Manhattan
Formerly the busy commuter hub's main waiting room, this 6,000-square-foot open space features soaring 48-foot ceilings, from which hang five massive Beaux-Arts chandeliers that date back to 1913. From mid-November through the end of December, Vanderbilt Hall hosts the annual Grand Central Holiday Fair, but the space is available for private events the rest of the year.
Total event space: 6,000 square feet

New York Botanical Garden
2900 Southern Blvd., Bedford Park, the Bronx
This stunning natural preserve has four unique, nature-inspired spaces and several classrooms available for corporate events. The Enid A. Haupt Conservatory—a Victorian-era, glass-domed greenhouse that opened to the public in 1899—is an inimitable setting for a gala reception or formal dinner. An adjacent tent that can accommodate up to 1,000 attendees is available from April to July. For smaller events, the Goldman Stone Mill, a National Historic Landmark erected on the northern bank of the Bronx River in 1840, can host 60 to 120 attendees.
Total event capacity: 1,000 attendees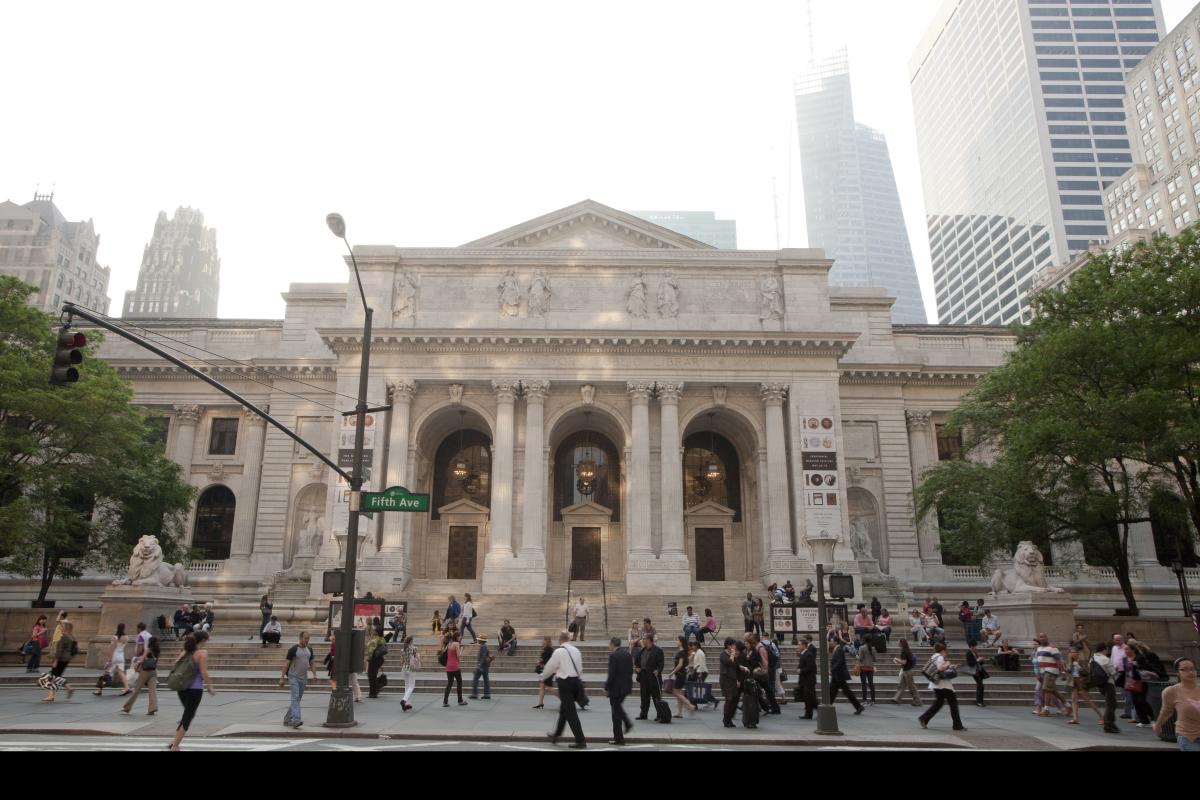 The New York Public Library Main Branch. Photo by Will Steacy.​

New York Public Library's Stephen A. Schwarzman Building
Stephen A. Schwarzman Building, Fifth Avenue & 42nd Street, Midtown West, Manhattan
Commonly referred to as the Main Branch of the New York Public Library, this venerable building has a stunning Beaux-Arts design. The flagship of the citywide library system opened to the public in 1911 on Fifth Avenue and was named a National Historic Landmark in 1965. Its five event spaces include the 6,400-square-foot glass-domed Celeste Bartos Forum, which can hold 500 attendees classroom style and 450 for a seated dinner, as well as the 4,500-square-foot Edna Barnes Salomon Room, which accommodates 300 to 325 and is notable for its skylights, dramatic chandeliers and exquisite collection of paintings.
Total event capacity: 750 attendees

Radio City Music Hall
1260 Sixth Ave., Midtown West, Manhattan
More than 300 million people have visited Radio City since it opened in 1932. Its oft-photographed neon marquee spans a city block and its shimmering, 6,000-pound gold stage curtain is the largest in the world. The vast hall has a number of spaces available for private events: the Great Stage, Grand Foyer and Grand Lounge are impressive settings for large receptions; the Hall's smaller lounges and rehearsal spaces are perfect for groups of 100 or fewer.
Total event capacity: 5,874 for performances; 1,000 for banquets or cocktail receptions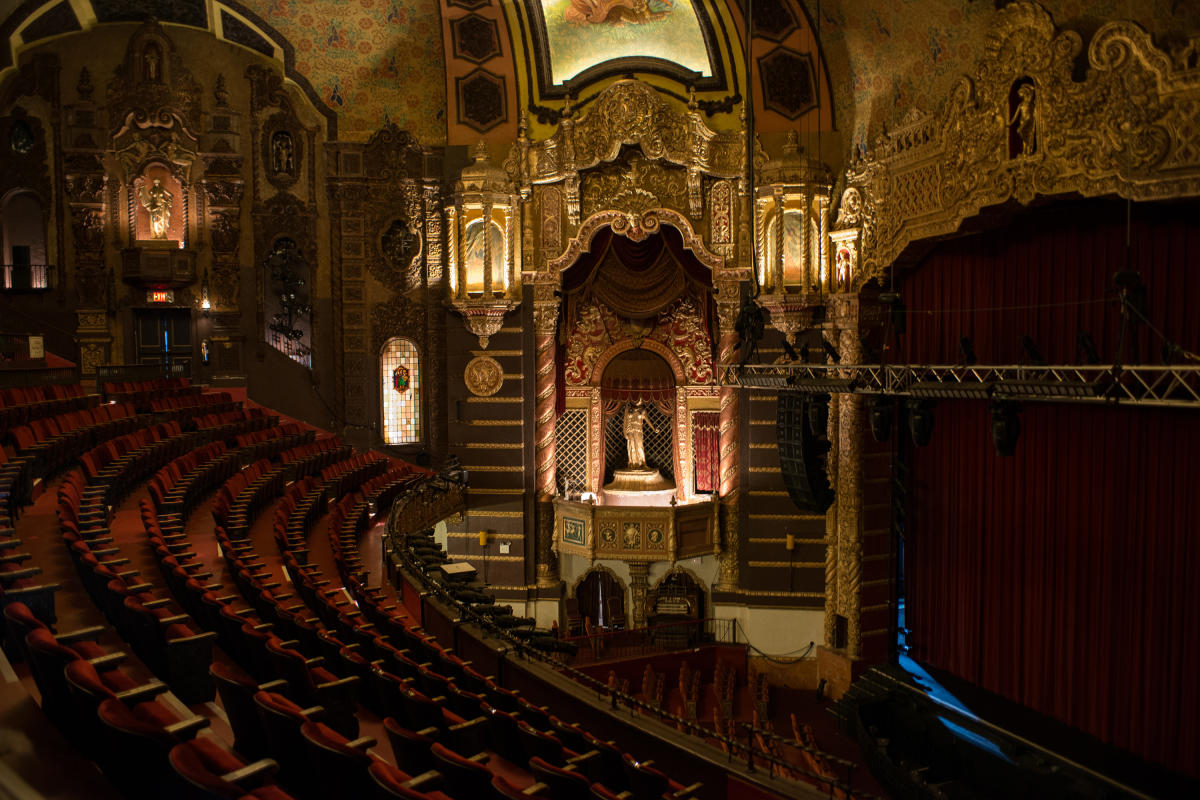 St. George Theatre. Photo by Julienne Schaer.​

St. George Theatre
35 Hyatt St., St. George, Staten Island
Staten Island's signature theater opened as a vaudeville house in 1929 with one of the largest cantilevered balconies ever built, an advanced heating-and-cooling system and a $25,000 Wurlitzer organ (the equivalent of more than $350,000 today). When the theater was set to be demolished in the early 2000s, a group of locals led by prominent local ballet instructor Rosemary Cappozalo waged a successful campaign to save the historic treasure. Since its 2004 revival as a performance space, the St. George has hosted such luminaries as Diana Ross, Jerry Seinfeld and Tony Bennett. The 1,903-seat theater is available for buyouts for private events.
Total event space: 25,000 square feet

United Palace Theatre
4140 Broadway, Washington Heights/Inwood, Manhattan
Originally opened in 1930 as Loew's 175th Street Theatre, this Washington Heights theater is known for its eclectic architecture. The theater was built as a showplace for MGM pictures: Their Own Desire, starring Norma Shearer, was the first of many of the studio's films to make its debut at the United Palace. The exterior of the seven-story terracotta-faced theater features Islamic honeycomb stonework, and inside elephants and bodhisattvas adorn the columns and mezzanine walls. In addition to the 3,358-seat theater, the foyer, mezzanine and first- and second-floor annexes can be booked for private events.
Total event space: 39,230 square feet

Weylin
175 Broadway, Williamsburg, Brooklyn
This restored event space in north Brooklyn made its debut as the Williamsburgh Savings Bank in 1875. The bank's design was heavily influenced by Williamsburg resident Weylin B. Seymour, who was famous for his skill at matchmaking—yes, the romantic kind—as well as a respected local businessman and frequent host of lavish parties. The Classical Revival building, notable for its 110-foot-high cast-iron dome, was named to the National Register of Historic Places in 1980. Spaces available for private events range from the grand 3,500-square-foot Main Rotunda, with its vast domed ceiling and elaborate frescoes; the 2,500-square-foot Oculus Dome, where the coffered ceiling and mosaic floor recall the Pantheon in Rome; and the tiny Victorian Room, where 15 or fewer attendees can convene around an original William Morris fireplace.
Total event space: 6,500 square feet

Ziegfeld Ballroom
141 W. 54th St., Times Square/Theatre District, Manhattan
This new space in Midtown was built on the site of the legendary Ziegfeld Theatre, formerly the City's largest single-screen movie theater and the site of many Hollywood premieres and press screenings from 1969 and 2016. The three-story ballroom's design mimics the art deco style of the SS Normandie, a transatlantic ocean liner that defined luxury in the 1930s. The nearly 10,000-square-foot main ballroom can accommodate up to 1,400 guests for receptions and almost 1,000 for seated events. The Ziegfeld Ballroom's balcony meeting areas are outfitted with state-of-the-art audiovisual equipment and can be partitioned for smaller groups.
Total event capacity: 1,400 attendees.
New York City's prominence as a global business and financial capital and vibrant mix of arts and culture means it's a can't-miss destination for meetings and events. NYC & Company, the City's official CVB, works with planners at every stage of the event cycle to create the best possible experience for attendees. Get in touch so that we can partner with you on your next event.