New York City's wealth of history and culture is a huge draw for meetings. Your attendees will never forget meeting at the world-famous Apollo Theater, where music legends like Ella Fitzgerald and Jimi Hendrix got their start, or sipping a cocktail in the gilded lobby of one of Loew's movie palaces. Here are some inspiring clubs, theaters and landmark buildings that are available for your next NYC event.
The neo-Georgian 3 West Club, located in Midtown near Radio City Music Hall, was established in 1934 on the site of Andrew Carnegie's 51st Street mansion. Six spaces are available for private events, including the Grand Ballroom, which can accommodate up to 350 attendees; the 1,564-square-foot Grand Salon, for events of up to 250; and the gorgeous ninth-floor solarium, which can hold 130.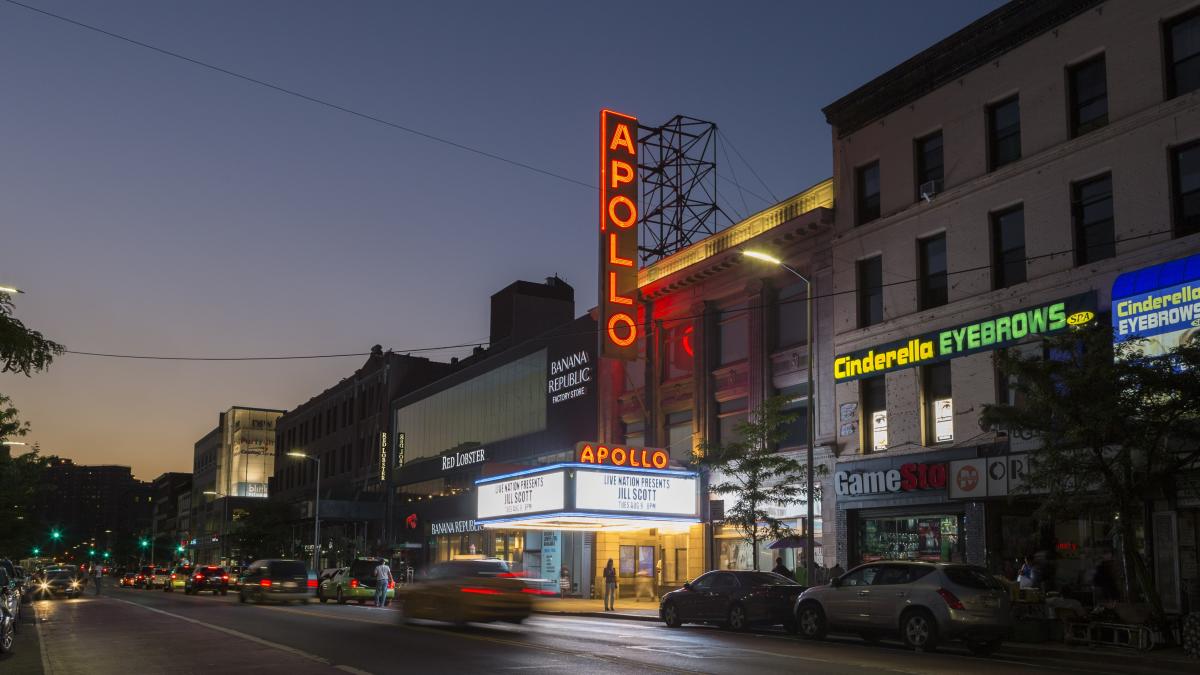 Apollo Theater. Photo: Kate Glicksberg
Harlem's Apollo Theater debuted in 1914 as Hurtig & Seamon's New Burlesque Theater before being renamed and opened to African-American patrons in 1934. The Apollo launched the careers of many musical luminaries and comedy legends and features two spaces for private events: the 1,538-seat Main Stage and the 1,680-square-foot Sound Stage, a flexible space that can accommodate up to 180 attendees.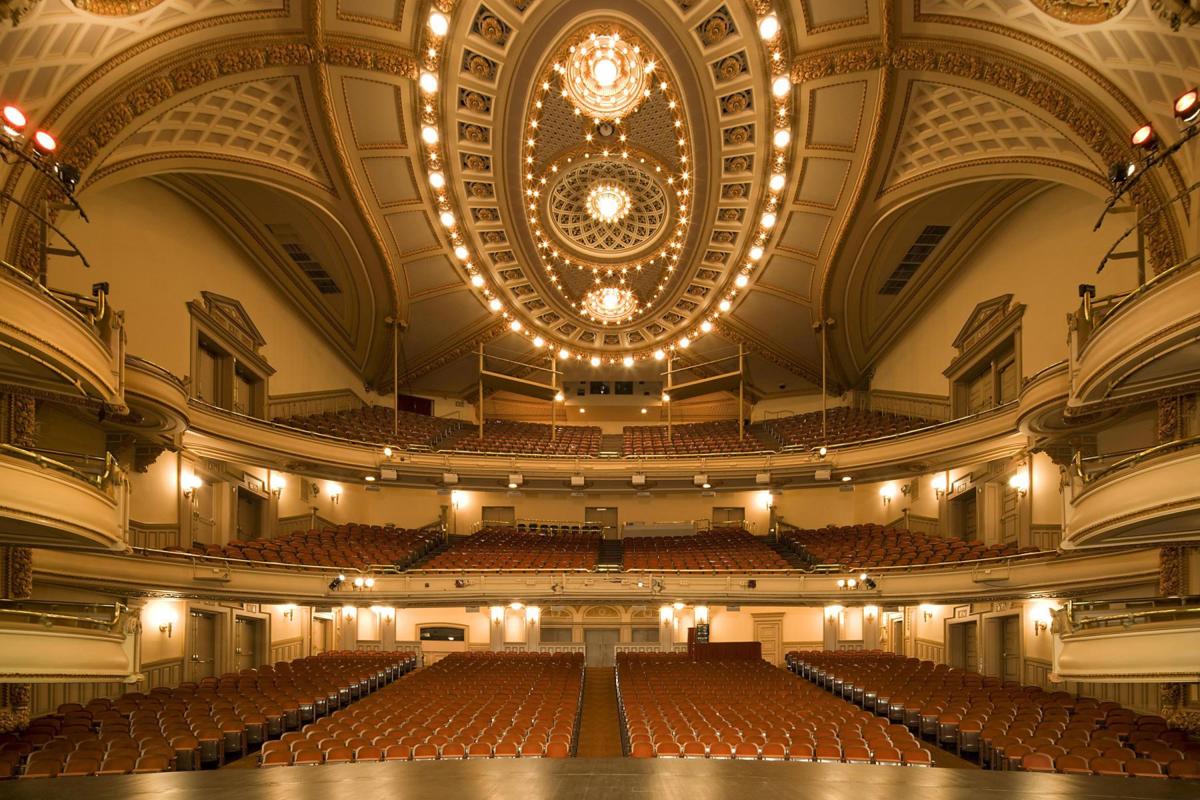 Howard Gilman Opera House. Courtesy, BAM
The Brooklyn Academy of Music, usually shortened to BAM, is one of the gems of Brooklyn's Fort Greene neighborhood. BAM comprises several performing arts spaces, including the Beaux-Arts Howard Gilman Opera House, which can host events for up to 2,098 attendees; the recently renovated 837-seat BAM Harvey theater; and Lepercq Space, a ballroom turned flexible performance space that can accommodate up to 350.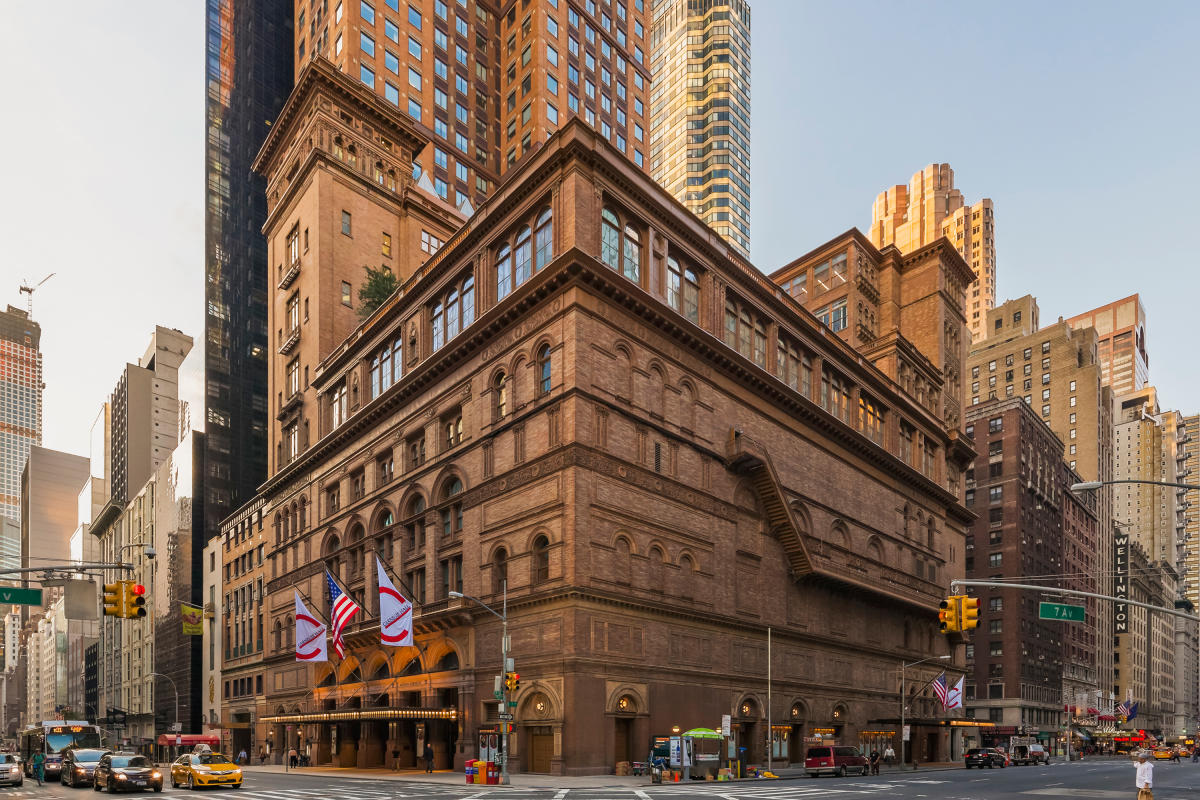 Carnegie Hall. Photo: Jeff Goldberg/Esto​
Carnegie Hall, a storied Manhattan performance space that opened in 1891, has welcomed legends like Maria Callas, Billie Holiday and the Beatles during its long reign as one of the City's premier theaters. There are six spaces available for private events, including the 10th floor Weill Music Room, which offers skyline views and accommodates up to 200 attendees, and the wood-and-brass paneled Shorin Club Room and Rohatyn Room, which together can hold as many as 299 guests and may be rented out separately for smaller events.
Grand Central Terminal's Vanderbilt Hall, once the busy commuter hub's main waiting room, has 6,000 square feet of open space. Five massive Beaux-Arts chandeliers that date back to 1913 hang from 48-foot ceilings. From mid-November through the end of December, Vanderbilt Hall hosts the annual Grand Central Holiday Fair, but the space is available for private events the rest of the year.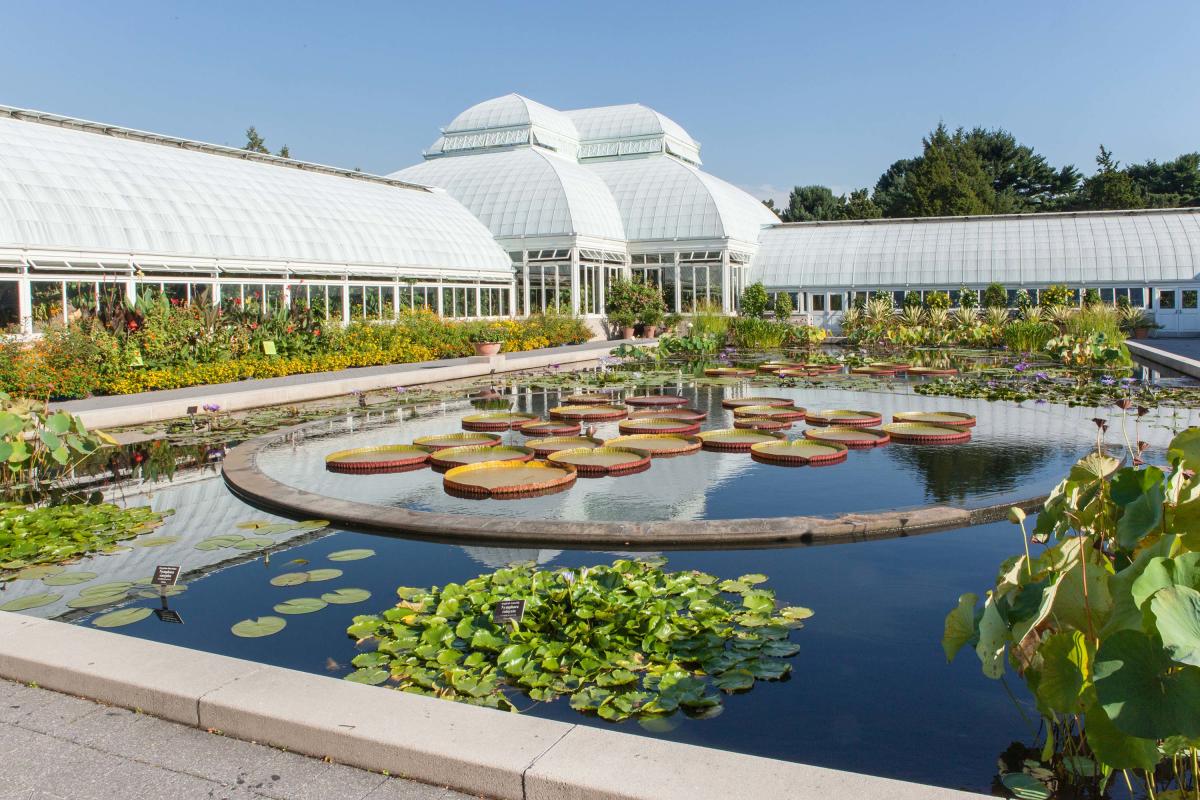 New York Botanical Garden. Photo: Tagger Yancey IV
The Bronx's New York Botanical Garden has several spaces, including classrooms and a Victorian-era glass-domed greenhouse, available for private events. For smaller events, the Goldman Stone Mill, a National Historic Landmark erected on the northern bank of the Bronx River in 1840, can host 50 to 120 attendees.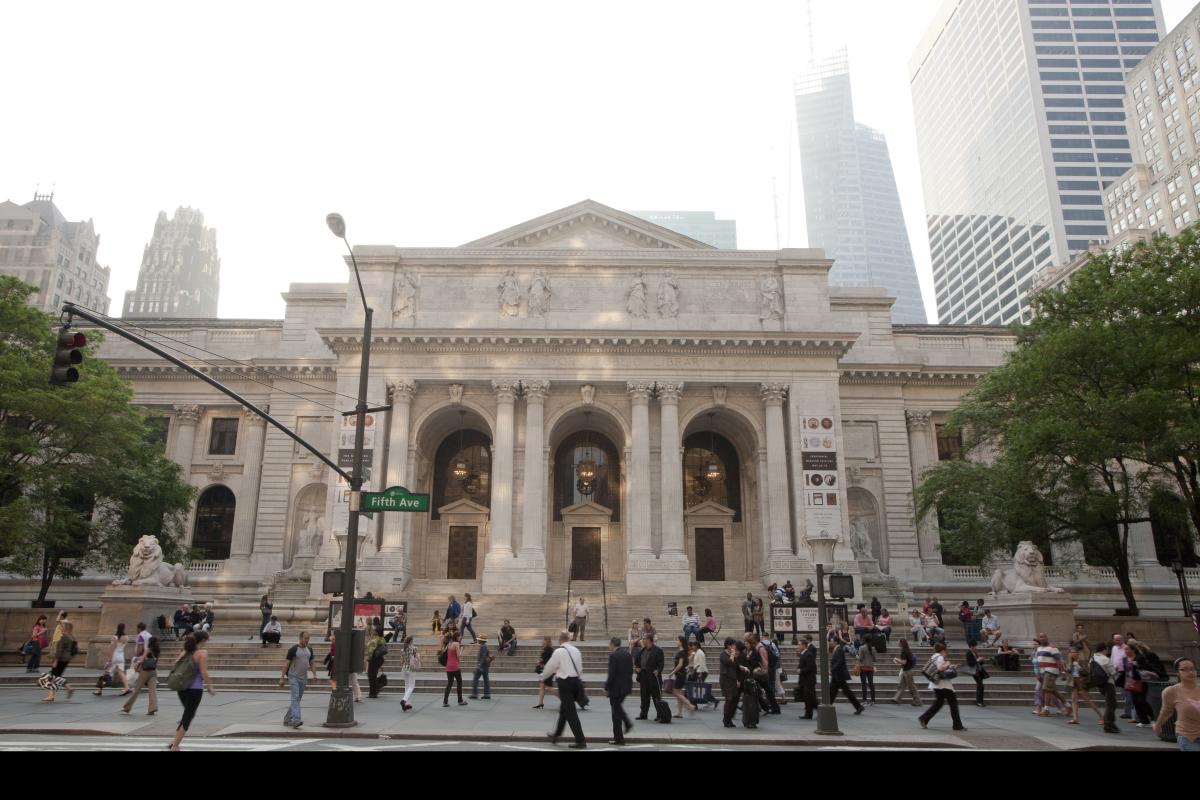 New York Public Library Main Branch. Photo by Will Steacy.​
The New York Public Library's Stephen A. Schwarzman Building, commonly referred to as the Main Branch, opened to the public in 1911 on Fifth Avenue and 42nd Street. Its six event venues include the 6,200-square-foot glass-domed Celeste Bartos Forum, which can hold 500 attendees classroom style and 425 for a seated dinner, as well as the 4,800-square-foot Edna Barnes Salomon Room, which accommodates 300 to 325 and is notable for its skylights, dramatic chandeliers and fine paintings.
NYC landmark Radio City Music Hall—with a neon marquee that spans an entire city block, not to mention a shimmering 6,000-pound gold stage curtain—has a number of spaces available for private events. The theater's Great Stage, Grand Foyer and Grand Lounge are impressive settings for large receptions, while the ornate Roxy Suite is perfect for group of up to 75 attendees.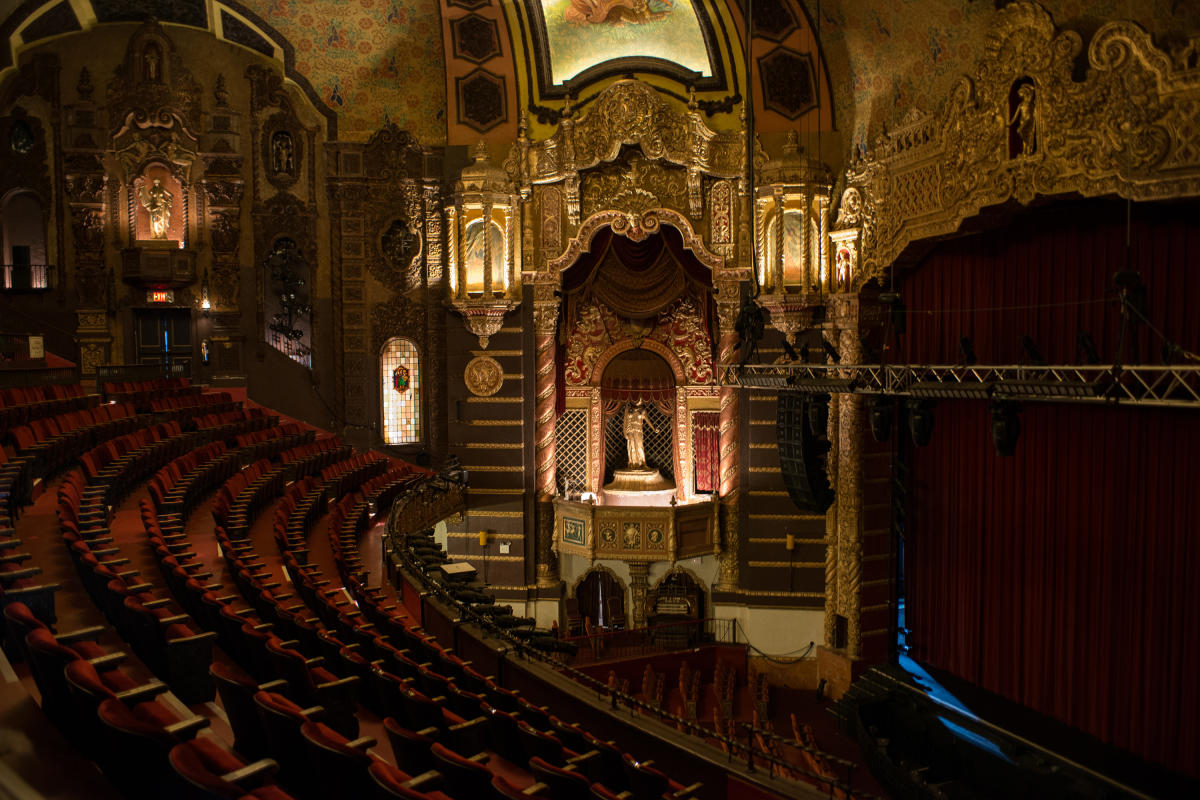 St. George Theatre. Photo by Julienne Schaer.​
Staten Island's 1,903-seat St. George Theatre opened as a vaudeville house in 1929 with one of the largest cantilevered balconies ever built, an advanced heating-and-cooling system and a $25,000 Wurlitzer organ (the equivalent of more than $350,000 today). The entire theater is available for buyouts for private events.
United Palace, which originally opened in 1930 in Washington Heights as a Loew's Wonder Theater, is Manhattan's fourth-largest theater. The opulent seven-story Thomas Lamb design has been described by the AIA Guide to New York City as "Cambodian neo-Classical." In addition to the nearly 3,400-seat theater, the foyer, mezzanine and first- and second-floor annexes can be booked for private events.
Weylin, a beautifully restored event space in Brooklyn, made its debut as the Williamsburgh Savings Bank in 1875. The original design was heavily influenced by Williamsburg resident Weylin B. Seymour, a respected local businessman and frequent host of lavish parties who was famous for his skill at matchmaking—yes, the romantic kind. Spaces available for private events include the grand 3,500-square-foot Main Rotunda, the 2,500-square-foot Oculus Dome, and the gemlike Victorian Room, with wallpaper designed by William Morris, for 15 or fewer attendees.
New York City's prominence as a global business and financial capital and vibrant mix of arts and culture means it's a can't-miss destination for meetings and events. NYC & Company, the City's official CVB, works with planners at every stage of the event cycle to create the best possible experience for attendees. Get in touch so that we can partner with you on your next event.