Meeting in and around Times Square means that your attendees will be right in the middle of the action.Thanks to the neighborhood's purpose-built meeting spaces, robust hotel inventory—see our Hotel Zone Map for all the options in and around Times Square—and performance venues steeped in history, there's a perfect option for every group. Here's your guide to Times Square's geography, as well as a look at some stand-alone meeting venues in the area.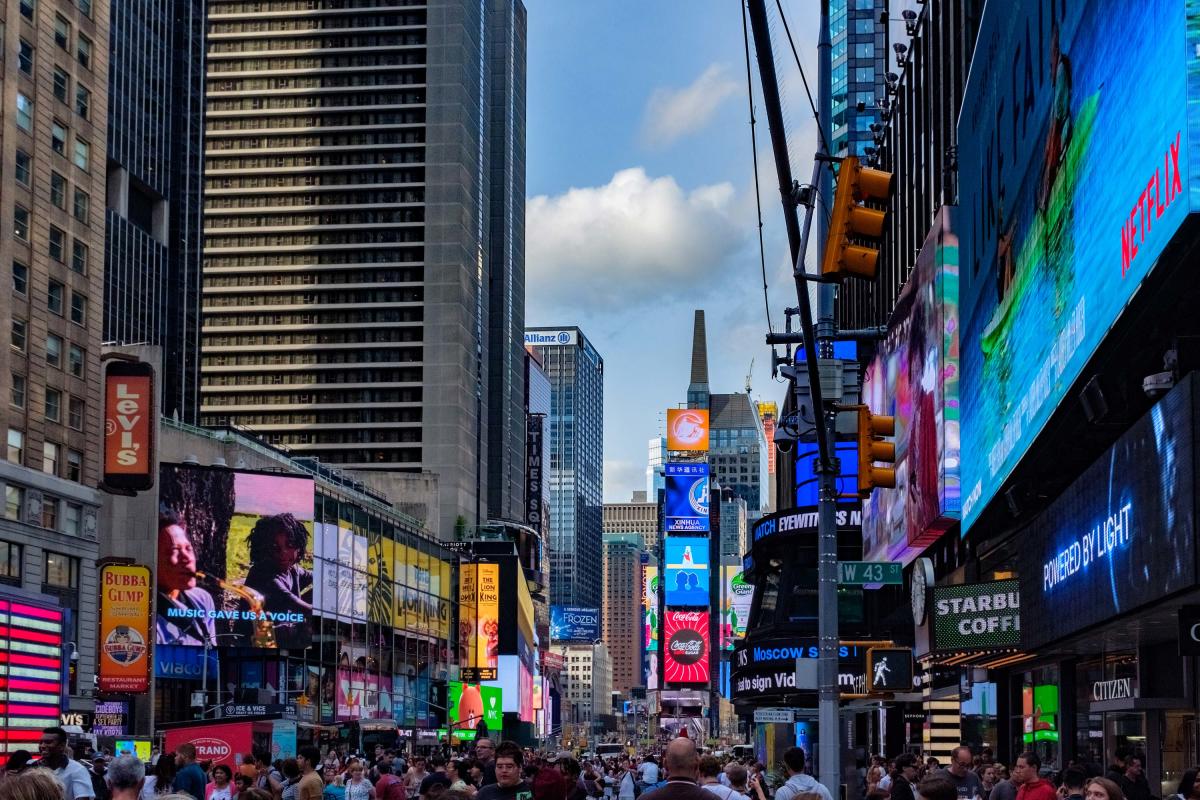 Times Square. Photo: Michelle Rick
Getting to Know Times Square
Times Square—also referred to as the Theatre District—has earned the nickname the Crossroads of the World thanks to the more than 380,000 people who pass through each day. Times Square proper runs from 42nd to 47th Streets between Broadway and Seventh Avenue, but several theaters and other notable landmarks lie just outside these borders. Columbus Circle and the southern entrance to Central Park are a 15-minute walk north of Times Square, while Rockefeller Center, home to Radio City Music Hall and NBC's television studios, sits along its eastern border.
Your attendees can arrive early or stay an extra day to see a play at one of the dozens of Broadway theaters in the neighborhood or to shop at Barneys New York, Bergdorf Goodman's, Tiffany & Co. and other exclusive retailers that line Fifth and Madison Avenues—just a 20-minute walk from Times Square.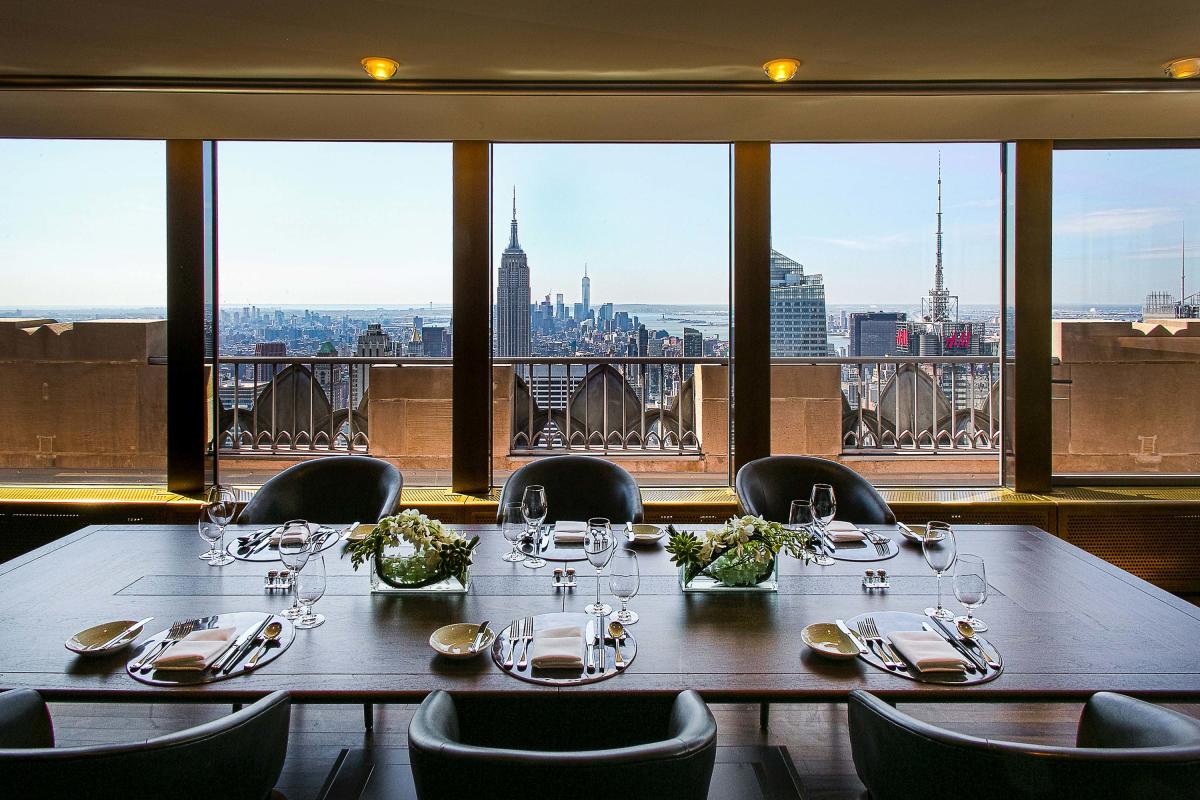 Courtesy, Rainbow Room
Near Rockefeller Center
The art deco Rockefeller Center complex is spread out between 48th and 51st Streets from Fifth to Sixth Avenues and is home to the world-famous outdoor ice rink as well as plenty of enviable dining, entertainment and shopping options. Meeting spaces at Rockefeller Center include 620 Loft & Garden, a lushly appointed rooftop with unobstructed views of St. Patrick's Cathedral; the glitzy Rainbow Room on the 65th floor of the skyscraper, which can accommodate 300 for dinner and 400 for cocktails; and the Top of the Rock Observation Deck, which offers unbeatable skyline views for up to 300 attendees.
There are a number of excellent meeting spaces around Rockefeller Center. Just across the street from St. Patrick's Cathedral is the historic 3 West Club, a Women Republican's Club established in 1934 on the site of Andrew Carnegie's former residence. The club has more than 7,000 square feet of meeting space, including a grand ballroom and a rooftop solarium. The AMA New York Executive Conference Center has 43 meeting rooms, including a spacious sixth-floor lounge with fantastic Broadway views, and more than 90,000 square feet of event space in all. Convene, the meetings powerhouse with 13 NYC locations, offers over 9,000 square feet of mixed-use space for meetings and events at 75 Rockefeller Plaza.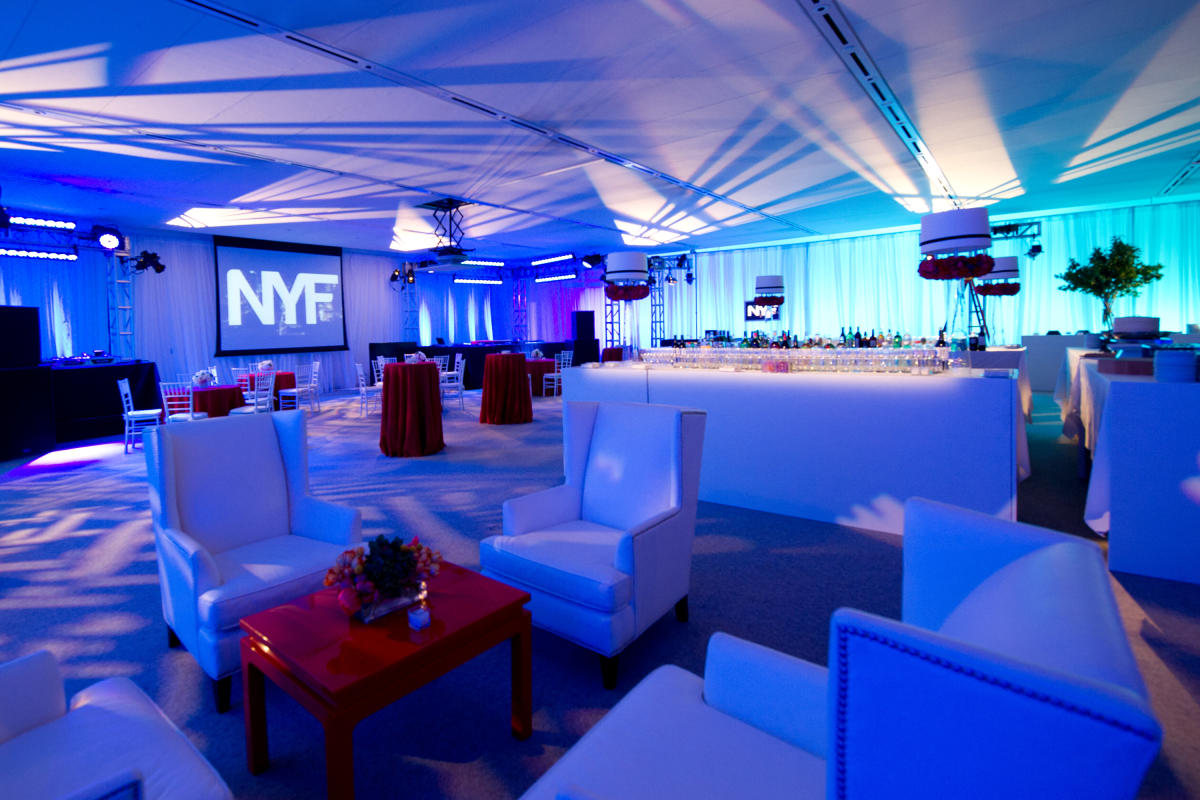 Courtesy, TheTimesCenter
Near Broadway Theaters
Broadway's 41 theaters present award-winning comedies, dramas, musicals and revivals six days a week (most are closed Mondays). On some of the same blocks as grand theaters with flashing marquees, planners will find both purpose-built meeting spaces and performance spaces that are available for private groups. Convene has three locations in the area—Convene at 810 Seventh Avenue, Convene at 117 West 46th Street and Convene at 151 West 42nd Street. The company's all-in-one pricing model covers catering, production costs, technology and venue design. There's also the TheTimesCenter, set within the New York Times Building on West 41st Street, which has both a 378-seat theater and a 5,000-square-foot column-free space ideal for receptions.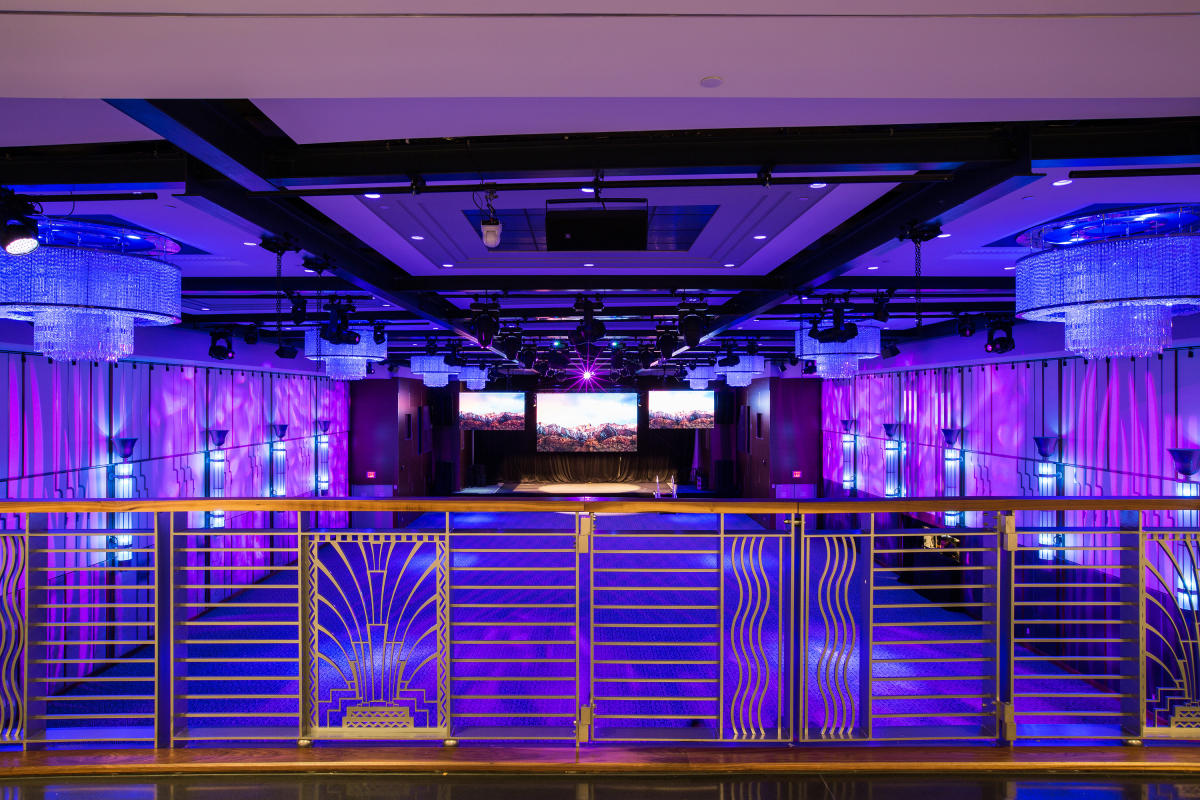 Courtesy, The Ziegfeld Ballroom

A variety of performance spaces in and around Times Square also welcome meetings. World-famous Carnegie Hall has nine different spaces available for meetings, including an indoor-outdoor terrace with gorgeous Central Park views. Other notable options include the New York City Center, which rents both its 2,257-seat theater and several smaller studio spaces to private groups, and the high-tech PlayStation Theater, which can accommodate from 200 to 1,100 attendees for sit-down dinners or meetings and is tricked out with an interactive LED wall and an 85-foot video marquee. The Town Hall, a historic 1,495-seat theater originally designed by renowned architects McKim, Mead & White and celebrated from the early 20th century to the present for its progressive programming, is available for buyouts. There's also the Ziegfeld Ballroom, designed with the art-deco style of the SS Normandie luxury ocean liner in mind, which can accommodate groups of up to 1,200 attendees.
Hudson Theatre. Photo: Timothy Greeson

A number of Broadway theaters offer space for private groups, including the recently remodeled Italian-Renaissance-style American Airlines Theatre, which rents out its 3,500-square-foot Penthouse Lobby with attached terrace in addition to the 740-seat theater. The Hudson Theatre, which debuted in 1903 and reopened its doors in February 2017 after a full restoration, can accommodate anywhere from 20 attendees for VIP events to 975 for buyouts.
New York City's prominence as a global business and financial capital and vibrant mix of arts and culture means it's a can't-miss destination for meetings and events. NYC & Company, the City's official CVB, works with planners at every stage of the event cycle to create the best possible experience for attendees. Get in touch so that we can partner with you on your next event.