by Jeff Heilman
Sponsored Content
Founded in 1992, London-based etc.venues​ pioneered a dynamic and disruptive new stand-alone, nonresidential, all-inclusive concept for urban event, training and conference ("etc") venues and support services.
Purpose-engineered for high-efficiency, high-performance engagement, productivity and outcomes, the etc. formula, solving for tired and outdated group market venues and offerings at the time, established an exclusive yet accessible higher standard for business success.
Flexible and adaptable elements, evolved and refined over 30 years, include built-in smart connectivity and A/V technology; optimized layout, design and functionality, including unimpeded sight lines; ergonomic furniture and abundant natural daylight; healthy, energizing chef-prepared food; inspiring artwork; and specialized support services.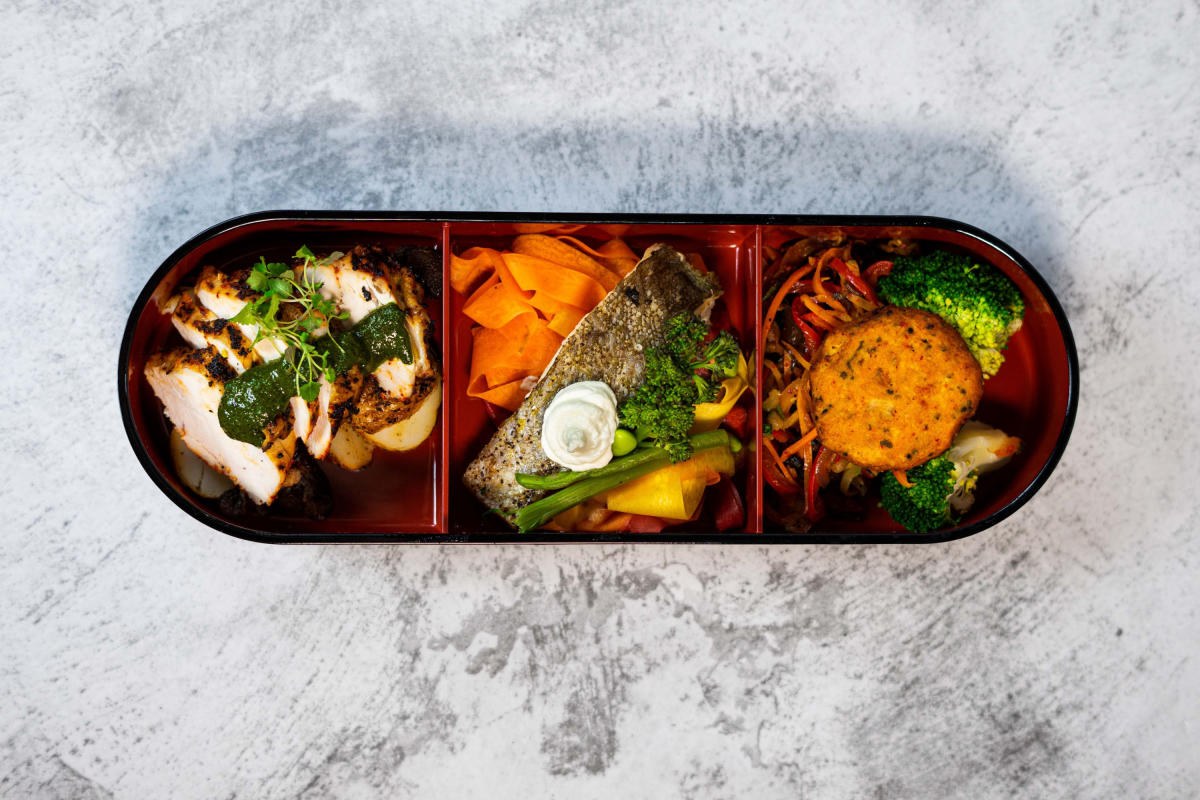 Having established a strong foothold in the London market, the company took a major step forward in 2006 when serial entrepreneur Alastair Stewart became Managing Director. From 2012 to 2018, he grew the UK portfolio sevenfold. Expanding to 13 venues in London, where etc.venues' collection of 278 meeting rooms surpasses both Hilton and Marriott, and one each in Birmingham and Manchester, the company became the operator of choice for events featuring prime ministers, royalty and dignitaries, along with countless leading corporations and other enterprises.
After winning the Transformational Leader award at the 2019 EY Entrepreneur of the Year, London and South East, Stewart set his sights on going global. Having honed the model in the UK on annual volume of some 18,000 events and 850,000 attendees, New York City was his automatic first choice.
"We chose NYC primarily because many of our key corporate, banking, law firm and other UK clients asked us to bring our unique model to the City," explained Garrett Ronan, Chief Operations Officer for etc.venues in the US. "Given the cultural similarities and affinities between London and New York, we were confident that our offering would be well received."
Opened in March 2020, etc.venues' NYC flagship in the heart of Midtown Manhattan at 360 Madison Ave. (at 45th St.), close to Grand Central Terminal, more than affirmed that confidence. Dubbed "360 degrees of wow," the venue quickly garnered praise from meetings professionals and leading outlets including The Wall Street Journal, along with industry accolades such as a prestigious Stella Award from the Northstar Meetings Group for Best Conference Venue – Global.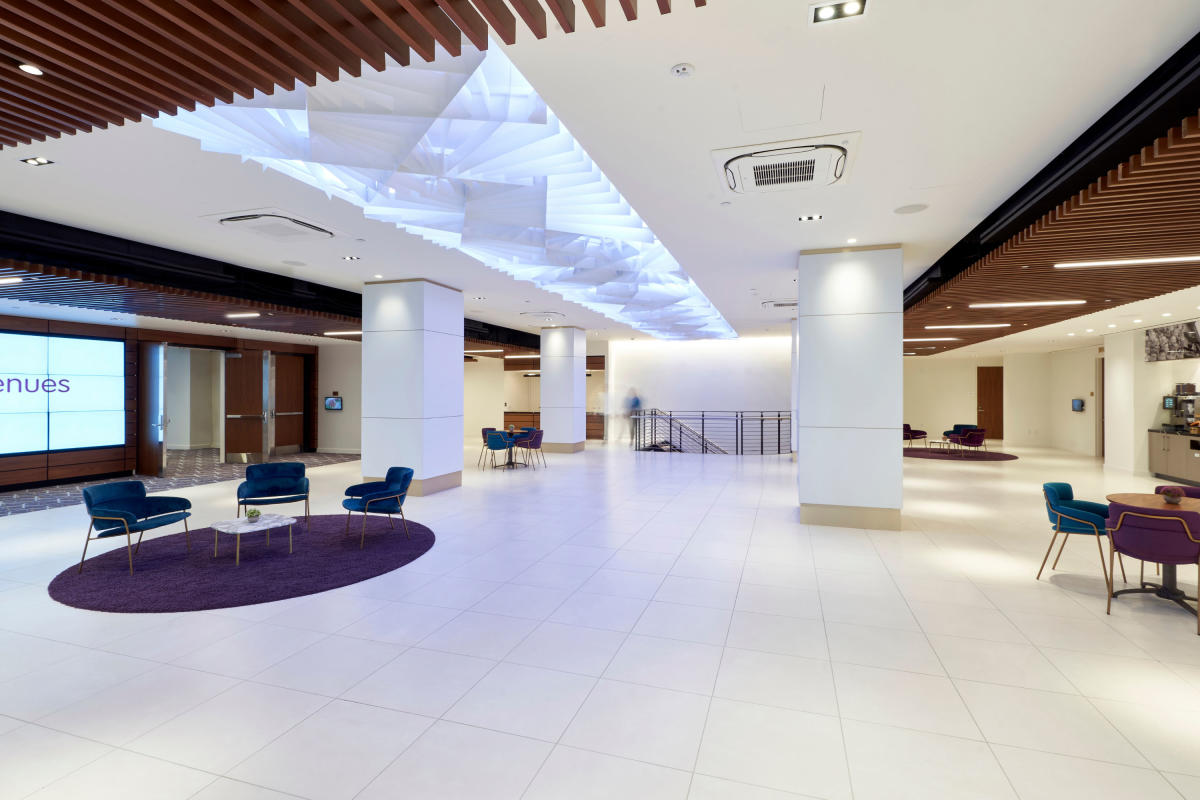 The brand's competitive edge is clear from the moment you enter the lobby, where staffers are waiting to escort delegates to registration. Offering 45,000 square feet of space in 10 rooms on two floors connected by a wide interior staircase, the venue imparts a distinct sense of arrival and occasion.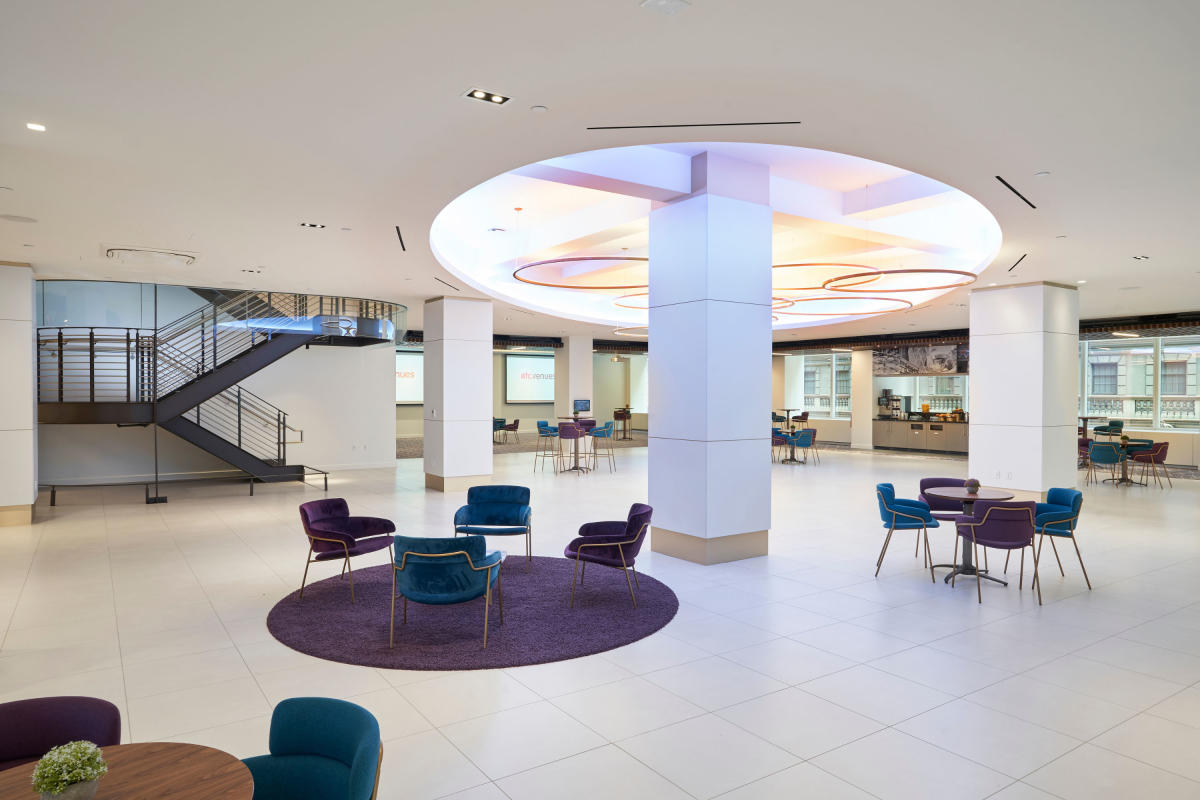 The two main meeting rooms on each floor, hosting 300 and 312 delegates, respectively, are filled with natural daylight from floor-to-ceiling windows. Custom artwork, such as the wall of birds in flight, hip NYC references and a painting that creatively blends NYC and London landmarks add vibrancy to the scene.
The same illuminating and inspiring atmosphere extends to the expansive reception and breakout rooms. Airwalls allow for flexible configurations while built-in state-of-the-art tech provide for maximum connectivity and presentation capabilities.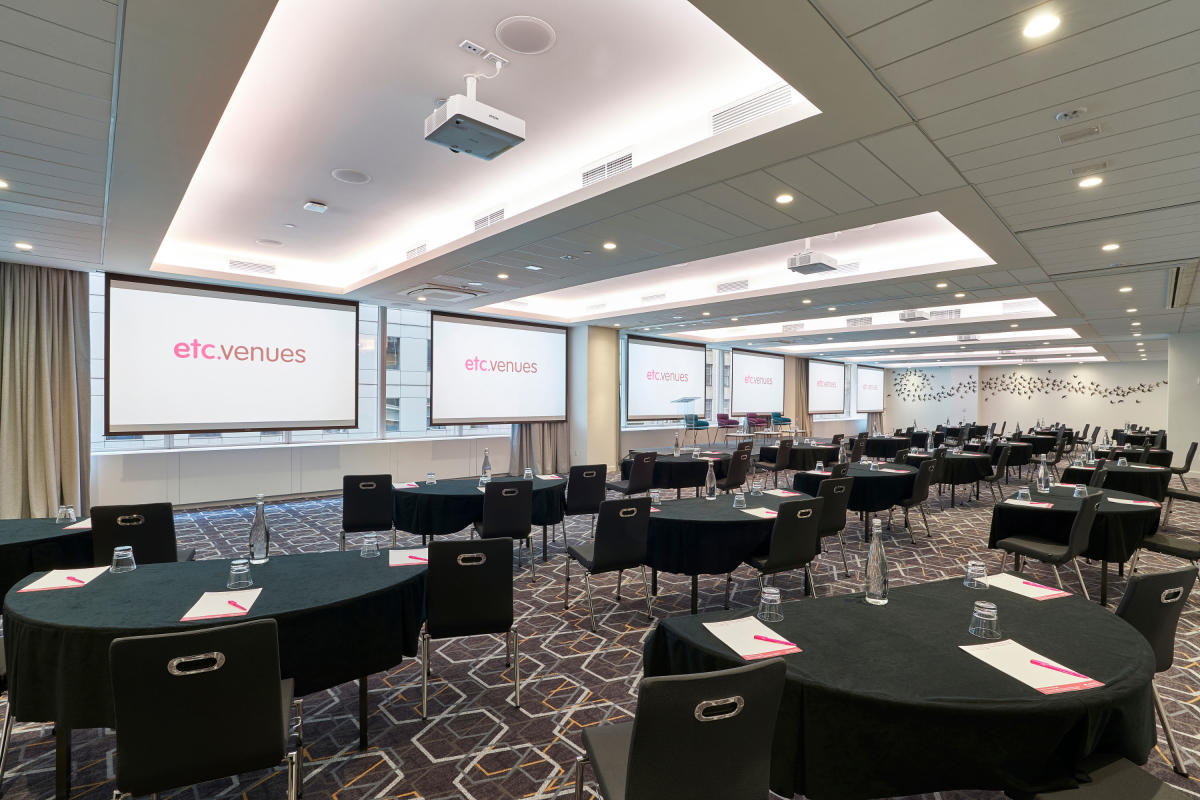 Branding and signage opportunities abound, from lightboxes to blank-canvas columns and walls, while room names such as "Invest," "Expand" and "Enterprise Suite" underscore the serious business purpose. Self-serve coffee and snack stations make for convenient breaks, while on-site chefs prepare performance-enhancing, restaurant-quality cuisine.
As General Manager, Events, for NYC-based vertical media company Digiday Media, Megan Knapp oversees global conferences and events for the company's four brands. She first connected with etc.venues in 2016 when planning a 150-attendee publishing event in the UK. Having taken a hardhat tour of 360 Madison just prior to the pandemic lockdown, she recently reconnected with her etc.venues sales contact in London and booked the space for an event this May.
"I especially liked the built-in aspect," says Knapp. "Our attendees are tech savvy and so having uninterrupted WiFi, dropdown projectors and other features is essential. Etc.venues seamlessly delivered on those and other key elements, including giving me the flexibility to use the space to meet my needs. They are wonderful to work with."
Last year, etc.venues opened a second NYC location, transforming the former Citigroup conferencing venue at 601 Lexington Ave. (at 53rd St.) into a 224-person capacity training-focused space with 12 meeting rooms.
Having hosted more than 300,000 events for 15 million-plus guests in its industry-changing 30-year history, the stage is set for etc.venues' continuing expansion in NYC and the US.
"Any business looking to expand internationally will focus on the larger markets," says Ronan. "We feel that success in New York would open the gates to other US markets, and that is very much the case as we look to the future."