by Jeff Heilman
With the ever-resilient US meetings industry on track to exceed pre-pandemic levels within the next two years, demand for destinations and venues is heating up.
Justin Farmer, Senior Vice President, Business Strategy, for the leading hospitality and tourism marketing and communications firm MMGY Global, moderated a discussion with four prominent executives and planning professionals at NYC & Company's 2022 Annual Meeting, held this past March at the newly expanded Javits Center. The panel named safety, unique "true to destination" offerings and access to activities as the most influential criteria for planners and attendees when choosing locations for their programs.
"Winning in this competitive environment requires innovation and improvement," said Farmer, citing these survey-based findings from MMGY Global's most recent quarterly Portrait of U.S. Meeting & Convention Travel report. "It's about playing to your strengths—in which New York City is unrivaled."
Seconding that sentiment were the panelists: Barkley Dean, Senior Director, Corporate Sponsorships, for Salesforce; Mary Eiken, CEO of the International Gynecologic Cancer Society; Tonya Horsley, Director, Meetings & Registration, for the American Institute of Architects (AIA); and Judi McLaughlin, Managing Director, Northeast, at HelmsBriscoe.

Following are highlights of their discussion on prevailing trends in the resurgent MICE industry—and the unmatched advantages of convening in NYC.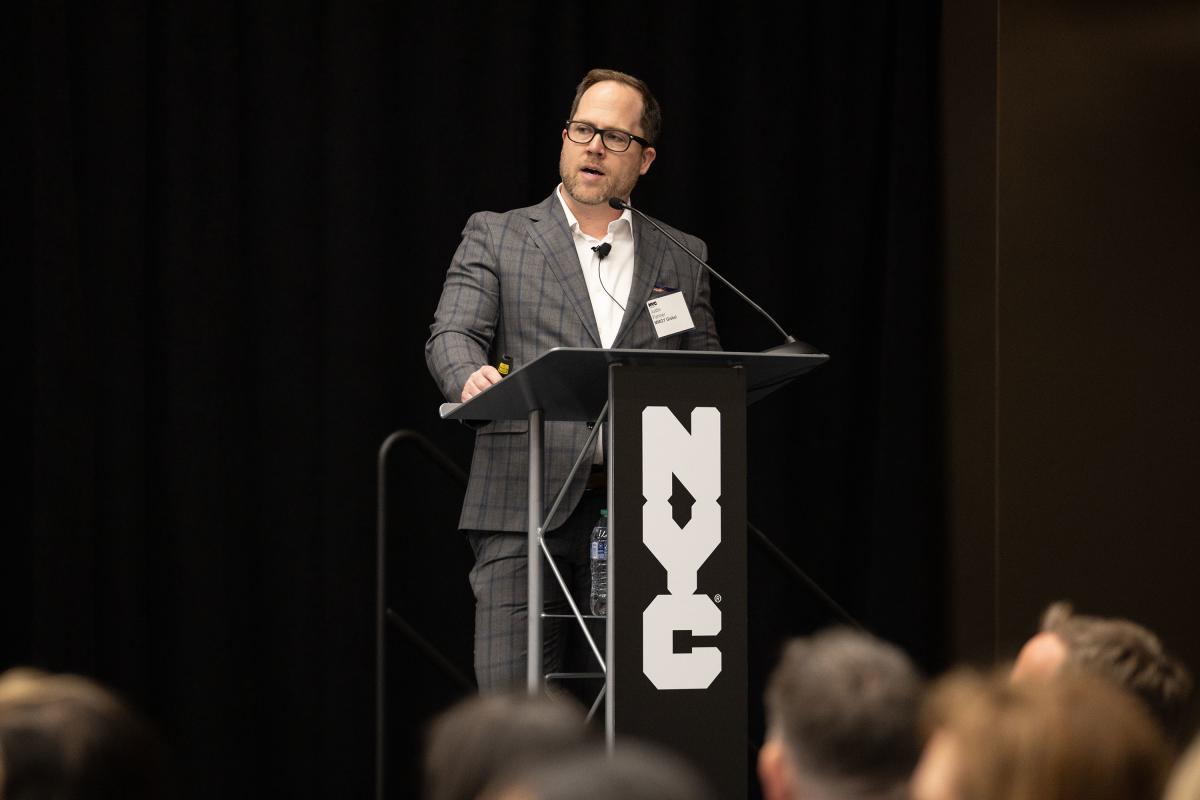 Justin Farmer: Barkley, Salesforce came to NYC in a major way this February. What was planning your first in-person gathering in two years like?
Barkley Dean: We normally hold our annual global company kickoff (CKO) in San Francisco with 500 attendees in a hotel ballroom. Being out of commission since 2020, management wanted to go big in 2022. We went historic, bringing in 5,000 employees from around the globe for four days at the Javits Center. Our other 70,000 employees, 30,000 of whom we hired during the pandemic, joined online.
Convening that many people in one place was remarkable in itself; pulling it together in December 2021 when Omicron was blowing up was unprecedented. Working closely with NYC & Company, the Javits team, hotels and other local suppliers, it was a great success. Many attendees had never met each other or their managers. Reconnecting in person was a huge deal.
JF: No arguing about the power of face to face. But what about hybrid and the accessibility of online, on-demand virtual solutions?
BD: Hybrid is not going away any time soon. While we are committed to live events in the US, not all countries are there yet. We see this as a transitional period in which virtual components will serve audiences that cannot attend in person for whatever reason. Accordingly, we will continue to drive virtual events and customer engagement on our online Salesforce+ platform, which saw us through the pandemic. We are confident, however, that people will increasingly gravitate back to the excitement and invaluable engagement of in-person events.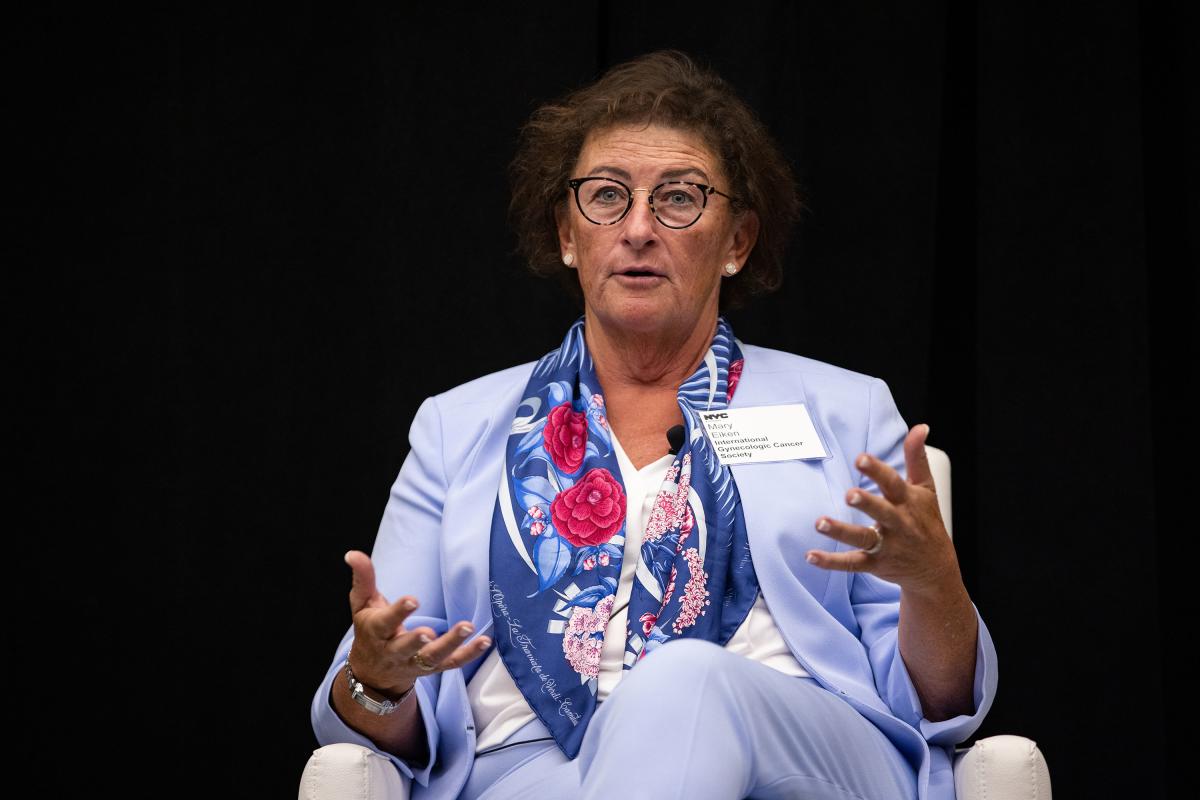 Mary Eiken: After flocking to virtual and then hybrid solutions, our challenge now is understanding what event and educational content the learner wants from the in-person versus the hybrid environment. Another is leveraging the voluminous data. Who is signing in virtually? Where are they located? How long are they staying online? Our meetings and education teams are very involved in strategizing how to best use the data and technology in event planning.
JF: Any other interim or longer-term adaptations or innovations?
ME: Pharma, medical and surgical device trade shows are major operations in terms of shipping freight and bringing in people. Not all companies are back yet though. That means getting creative. For our Annual Global Meeting in NYC this fall, we partnered with the Javits team to create our Engagement Center. Located on the fifth floor of the new Javits North building, which overlooks the Hudson River, the concept will allow delegates to converse and network with speakers and leaders in a more intimate, hub-like setting. It is the first step in rethinking engagement outside the traditional trade show format, the effectiveness of which we will evaluate going forward.
Tonya Horsely: Before Covid, we comped registrations like we were The Oprah Winfrey Show. Now we take a more business-minded approach. One example is our Platinum Package, created in partnership with NYC & Company. Aimed at reducing attrition, benefits include premier keynote seating, free event tickets, private meet and greets and exclusive room blocks. NYC & Company saw that to fruition—it's New York born and raised.
JF: I mentioned safety, accessibility and uniqueness as leading criteria for venue and destination selection. What other factors do you look for?
TH: Architects love natural sunlight. They also want to know who architected a given venue and the date of the last renovation. Since Covid, we have also added diversity, equity and inclusion and sustainability to our RFPs. LEED and WELL certification weigh higher in the process. We ask about Covid protocols and safety, and recommended Covid testing vendors.
JF: Contracting is the dominant hot-button topic right now. Our research finds that 76 percent of planners are influenced by flexible terms in their selection process. Perception or reality?
Judi McLaughlin: It is very real. One battle was the leisure segment. When guests in some markets were paying double the going rate, hotels started reassessing group inventory. Unlike the global turndown, there are no fire sales. Rates are up 5 percent or so over 2019. Securing dates and space is another challenge. If you do not act decisively, open windows quickly close.
People are shying away from signing agreements without protection. Rather than making financial commitments difficult, there needs to be more sharing of risk and more flexibility in attrition, F&B minimums and force majeure clauses. The win-win is booking the program and having some, if not all, attendees come.
On the positive side, business is coming back strong. We are at around 73 percent of where we were this time in 2019, when we booked 6.5 million room nights globally. In NYC, we are currently pacing at around 50 percent and rising.
JF: How are you managing client expectations differently?
JM: This whole episode allowed us to hone our consultative skills and demonstrate our value. Cycling through cancellations and rebookings has strengthened our partnerships with destinations and clients. Going forward, it is about being transparent, collaborative and proactive. Talking directly and openly about acting fast, being flexible and other realities of navigating the post-pandemic landscape will also help clients and partners to educate their internal stakeholders and correct misperceptions about the new marketplace.
JF: The last two years produced significant changes to the collective industry mindset in terms of heightened social consciousness. How are these cultural shifts impacting meeting and event production?
BD: Salesforce has been at the forefront of this shift. Inclusion and sustainability, for example, are two of the five core values which inform everything we do as an organization. Internally, we consult with Employee Resource Groups on all phases of event planning. Our Ability Group, for one, is focused on accessibility needs of all kinds and was involved in creating space for service dogs inside the Javits Center. We also provided closed-captioning on all screens throughout the CKO event. That was huge from the perspective of inclusive content for many of our international attendees, for whom English is a second language.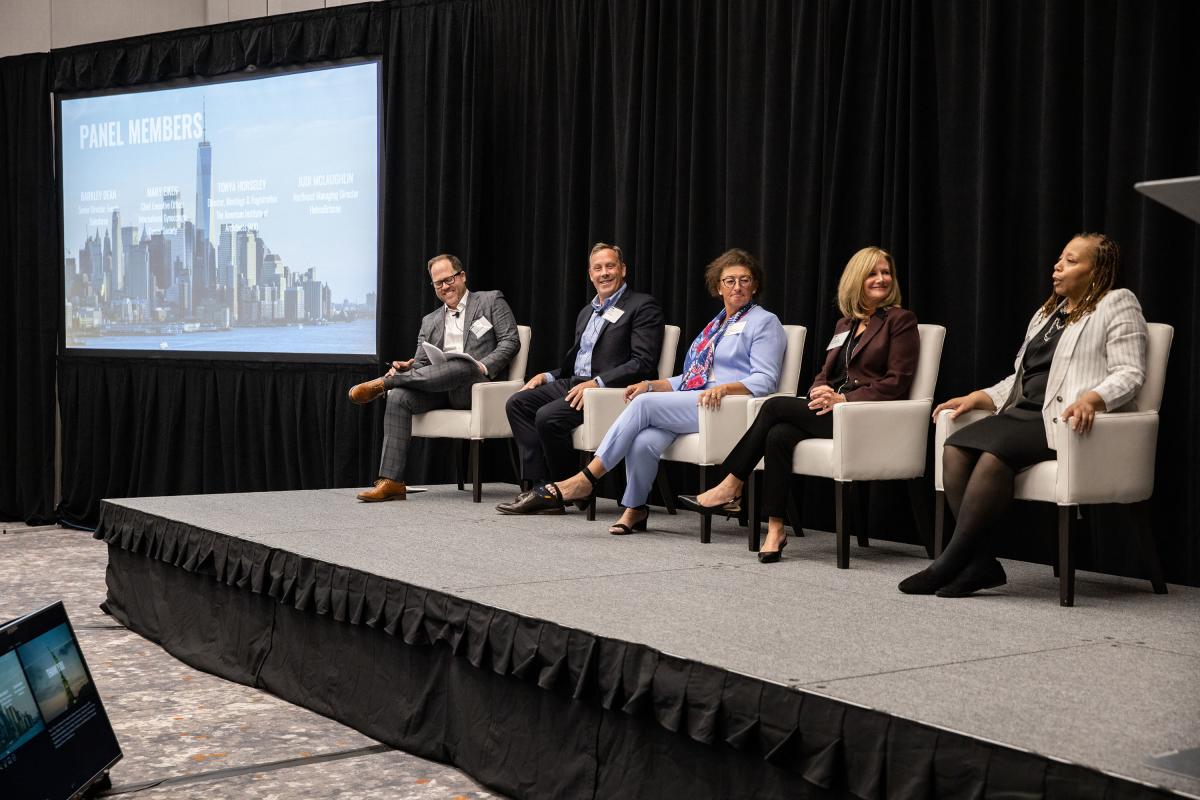 ME: Our organizational north star is our recently published Global Health Equity statement. The fact is you do not have to travel to places like Botswana, Ethiopia or Rwanda to see the disparities and inequities of health care. It is right here in our own country. What we like so much about NYC is that we can address these issues right here. Our gynecological oncology professionals can go right into the community and work with Memorial Sloan Kettering on cervical cancer screenings and other initiatives. Integrating that statement into our programming, including our meetings, has been invigorating for me as CEO and for our team, the board and everybody in the organization behind it. As a leading multicultural urban destination, NYC allows us to put that statement into play even more.
JM: We must not lose sight of how we came together individually and as an industry due to Covid-19. In slowing down, we saw into each other's lives, opened up about what we were facing, and deepened and strengthened understandings and relationships. As we get busy again, it is important to stay true to each other.
TH: Before the pandemic, we worked in silos. After coming together as an organization in response to the pandemic and racial crises, we realized the importance of breaking down walls and communicating more. In the process, we commensurately learned more about and developed deeper respect and appreciation for each other. I am proud of how we and our industry showed such resiliency and supportiveness.
JF: What brings you back to NYC time and again?
JM: What's not to love about NYC? No other city can offer NYC's vast variety of events, venues and activities. That means no two programs are alike—attendees can have a unique experience every time they come.
TH: AIA used to meet in NYC every 10 years. Now it is every five, and thanks to our partnership with NYC & Company, we want to be here as often as we can. For our architects, this city of great buildings is ready made for tours and events. From dining to unique venues, the off-agenda options are limitless. There is no place like NYC.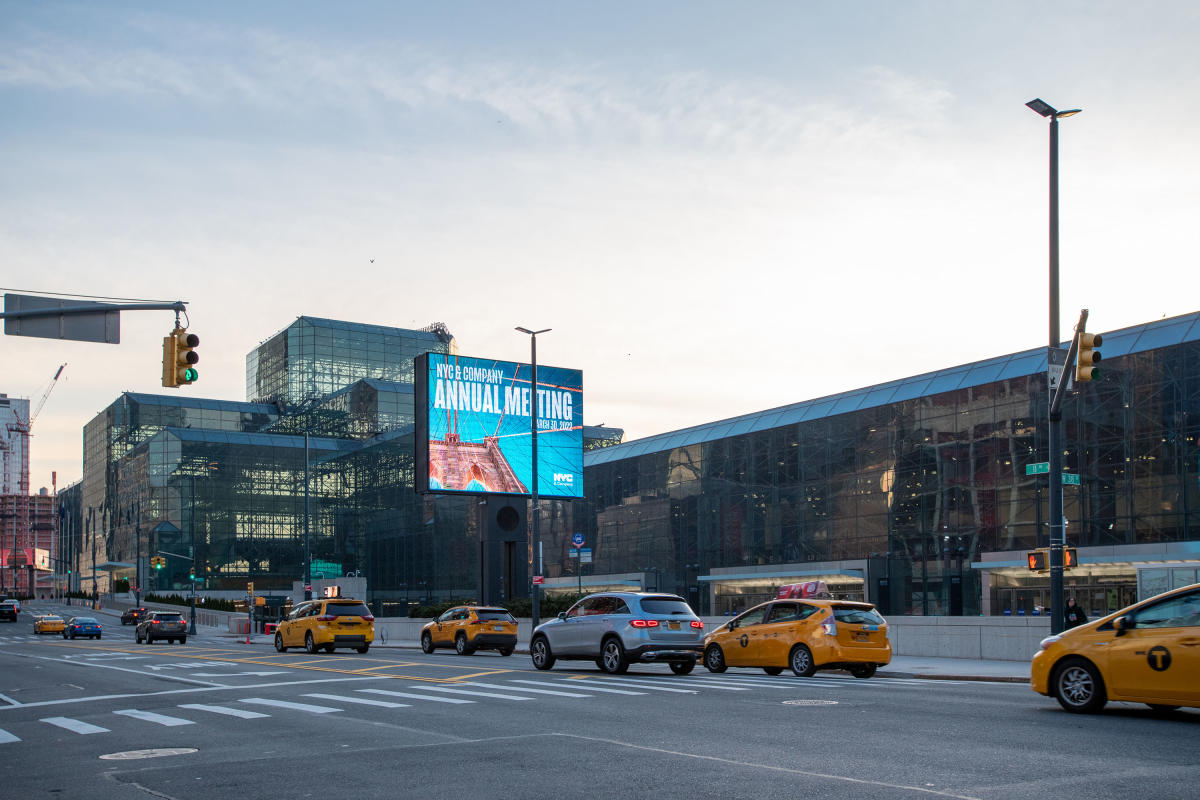 BD: NYC is our number one market in the world and means a great deal to the Salesforce organization. You do not have to sell NYC—people want to be here. The City is headquarters for global companies across all industries, with unparalleled access to Fortune 500 and other corporate leaders. Our CEO has visited five times this year already. The energy, attractions, dining, culture and more are unmatched. And the expansion of Javits will serve the City very well going forward. It is a great investment in the future.
ME: As a medical organization, having access to world-class organizations like Memorial Sloan Kettering, New York University, New York–Presbyterian Hospital and others is a major draw, along with the airlift and international community.
With so much destination appeal, attendees love to bring along a companion or significant other. After rebooking several times over the past two years, we are excited to be here this fall. It is going to be a home run, and honestly, we could not have done this without NYC & Company, the Javits Center, and all our other friends and business partners across this truly unique global city that made it viable.