According to the American Express Meetings & Event 2021 Global Meetings and Events Forecast, 79 percent of global organizations emphasize sustainability in meetings and events. World leaders in this vital space include New York City, where future-forward progress in everything from diversity, equity and inclusion initiatives and low impact food, energy and waste measures to the repurposing and recycling of event materials and building of new eco-friendly venues are rooted in history.
Imagine if Central Park were filled with buildings and traffic-clogged streets instead of trees, lakes and open spaces. Entirely conceivable at its time of conception in the mid-19th century, when the City's population had quadrupled over the prior four decades and was relentlessly expanding uptown, this daunting possibility was avoided thanks to historic, visionary acts of sustainability.
Established in 1857 as New York City's first planning agency, the Central Park Commission held the country's first landscape design contest to create a place where citizens could "escape from the stresses of urban life and…commune with nature and fellow New Yorkers." Of the 33 plans submitted, the winner was the design from Frederick Law Olmsted Sr., father of American landscape architecture, and English architect Calvert Vaux. Completed in 1876, their transformation of 843 swampy, rocky, untamed acres into Central Park created an urban oasis and economic engine for the ages.
Providing respite and renewal to locals and tourists alike ever since, America's most-frequented urban park, attracting 42 million-plus visitors annually, is as essential for the City's health as for human physical and mental well-being. According to the Central Park Conservancy, which invests around $78 million annually in maintaining this global landmark, Central Park's 18,000-plus trees "cool and clean the air" while its "vast acreage…provides habitat for wildlife, including as a stopover on the Atlantic Flyway for over 200 species of birds."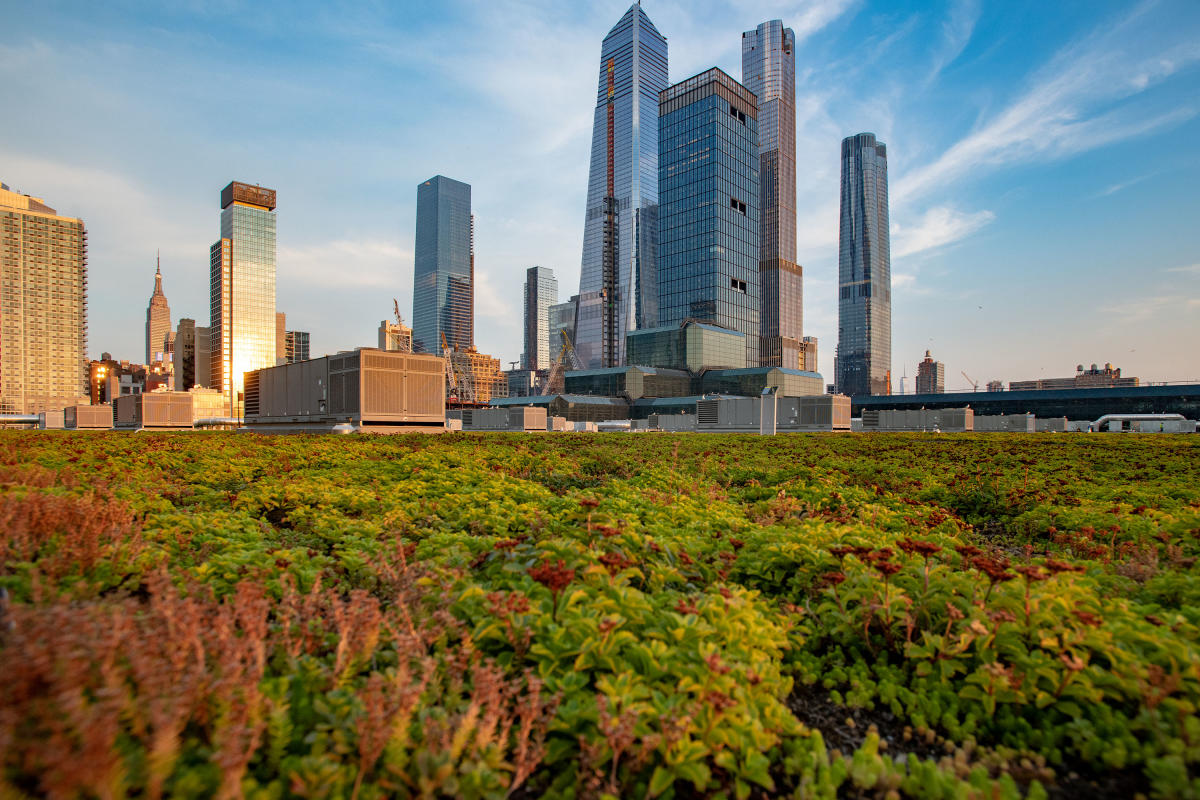 Today's ecological and environmental leaders include the New York Convention Center Development Corporation, which prioritized sustainability in its now completed multi-year expansion and upgrade of the Javits Center. Originated in 2014, the Javits' 6.75-acre green roof has evolved into a flourishing environmentally efficient wildlife habitat. Carpeted in inch-thick sedum, a low-lying rock plant that mitigates up to seven million gallons of rainwater each year, the roof significantly reduces energy costs by naturally cooling and insulating the building.
This life-sustaining sanctuary is inhabited or visited by nearly 40 local and migratory bird species, five bat species and countless insects. The rooftop's apiary houses some 300,000 honeybees, whose foraging flights pollinate flora up to three miles away and produce 100 pounds of honey annually for use in event catering and giveaway jars. Managed by Brooklyn Grange, the Javits' one-acre working rooftop farm generates up to 40,000 pounds of New York State Grown & Certified roof-to-table produce for meetings and events each year. Groups can learn more about these rooftop havens and the Javits' other sustainable features on guided tours.
Count trade show industry veteran Chris Nemchek among the many event professionals embracing the changes. "I have worked in the New York trade show industry for years," said Nemchek, General Manager of the two-day Plant Based World Expo North America show held at the Javits this September. "CEO Alan Steel and the entire Javits team have revolutionized the City's convention center, which is a wonderful tie-in to what our event and the plant-based community at large are all about."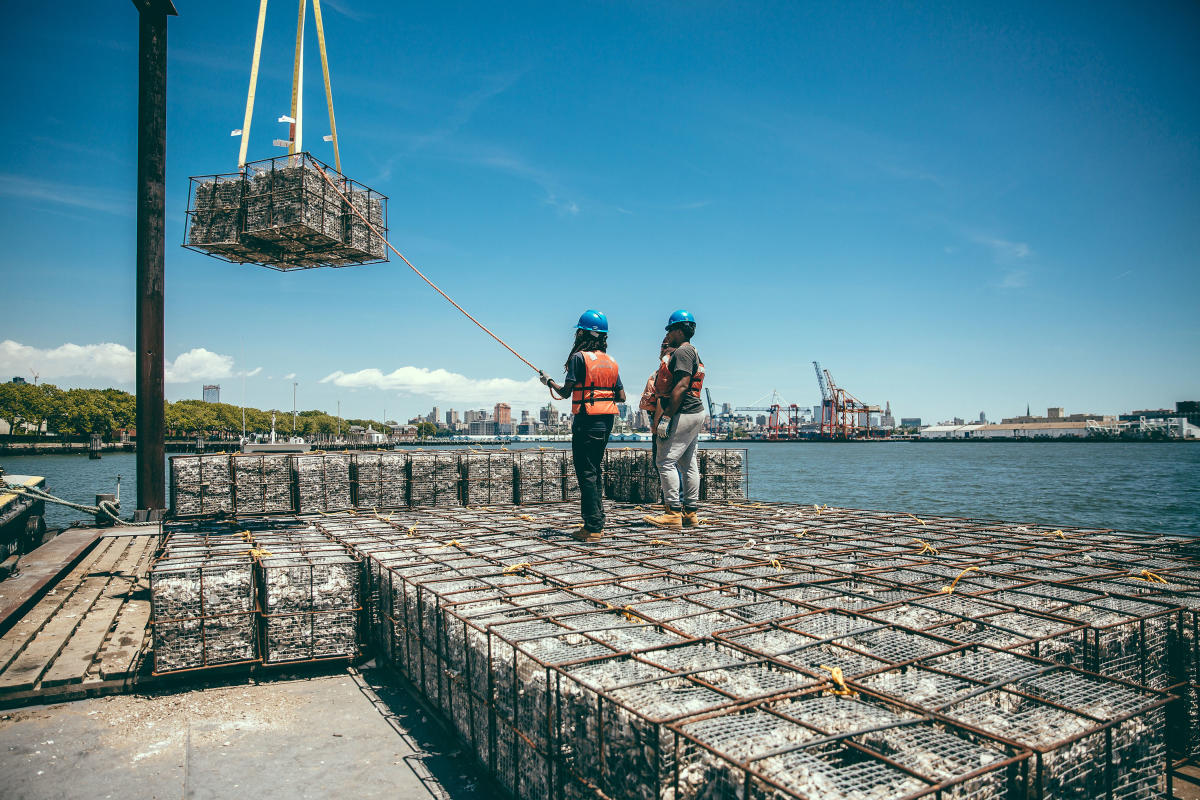 From the Billion Oyster Project's restoration of New York Harbor's water-cleansing oyster reefs to the epic reclamation of 2,200-acre Fresh Kills on Staten Island, once the world's largest landfill and now a verdant park and natural habitat with hiking trails and kayaking, major reclamation and regeneration projects across the City continue to plant deep roots for long-term sustainability.
In 1998, New York State enacted the Hudson River Park Act to create new public parks and estuarine sanctuaries along Manhattan's shoreline. The governing Hudson River Park Trust has since introduced miles of pathways and landscapes and revitalized a dozen-plus historic piers.
Recent projects include Sky Park. Unveiled in April 2022, this nearly two-acre green space atop Chelsea's circa-1954 Pier 57 is the City's largest rooftop park. Opened in 2021, Little Island is a remarkable public green space set on 132 tulip-shaped concrete piles in the Hudson River. Planted features include more than 66,000 bulbs and 114 trees representing 350-plus arboreal and floral species. Concerts, art workshops and talks are held in the 687-seat amphitheater, on the stage and lawn.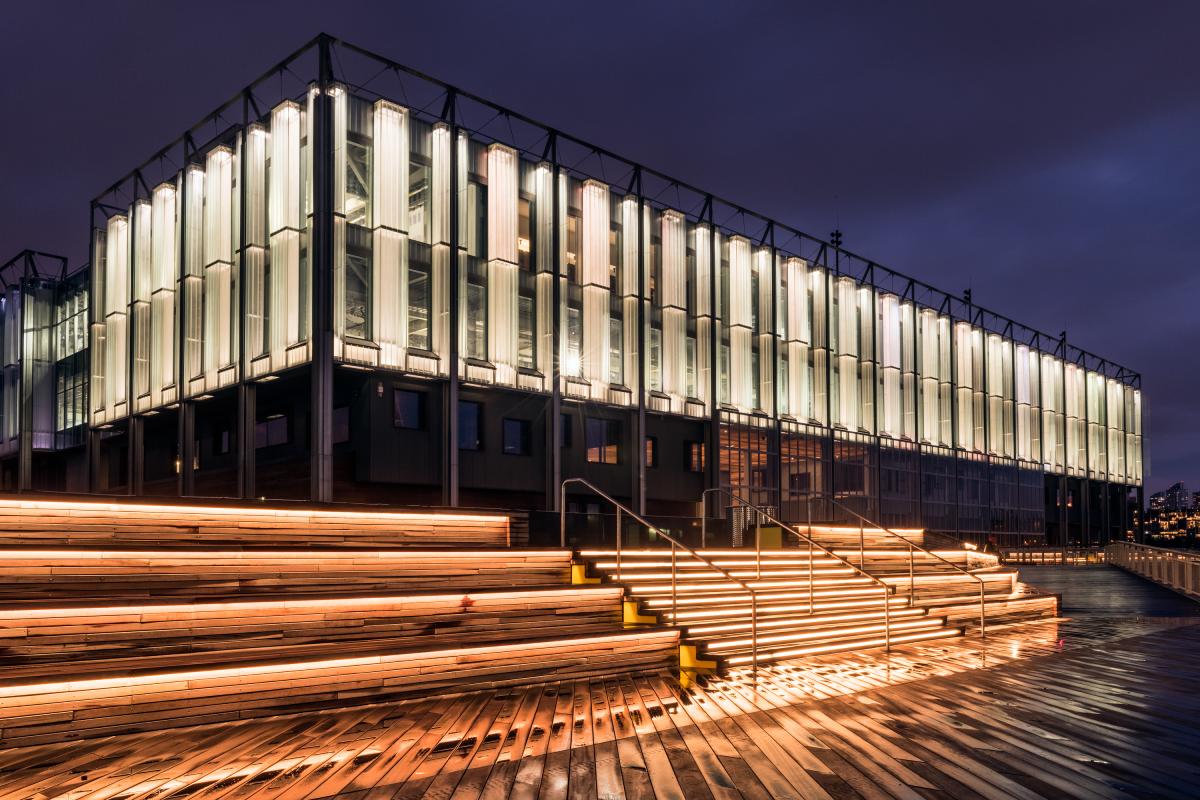 Located at The Seaport in Lower Manhattan, the original bustling 24-hour hive of industry and activity which inspired New York's "the city that never sleeps" moniker, The Rooftop at Pier 17 debuted in 2018 as a premier open-air concert and private event venue. Opened in 2012, Brooklyn's multipurpose Barclays Center—home of the NBA's Brooklyn Nets, WNBA's New York Liberty and blockbuster concerts and events—sports a sedum green roof.
This October sees the 10-year anniversary of Hurricane Sandy and the floodwaters that devastated city neighborhoods and infrastructure. Ongoing flood resiliency initiatives include the proposed Center for Climate Solutions on Governors Island. In April 2022, four finalists were announced in the design competition for the climate research and educational complex, which will reportedly create 7,000 jobs and $1 billion in economic impact for NYC.
"New York City is facing some of the most complex climate adaptation challenges in the world," said Kizzy Charles-Guzman, Executive Director of the NYC Mayor's Office of Climate and Environmental Justice, in a release. "The Center for Climate Solutions will bring together actionable science, community-based partnerships, and innovative and equitable solutions to communities on the frontline of the climate crisis."
Unveiled in April 2022, a new rooftop farm in Staten Island offers a unique solution to alleviating local flooding. Funded through the New York City Department of Environmental Protection's Green Infrastructure Grant Program, the farm crowns the Nicotra Group's Corporate Commons Three building, which sits amid a protected 415-acre natural wildlife preserve close to the group-ready 198-room Hilton Garden Inn New York/Staten Island. Planted with perennial wildflowers and organic vegetables, the previously impermeable roof can now absorb approximately 3.5 million gallons of annual rainfall.
"New York City is a hub for climate action, from major events like Climate Week NYC and some of the world's most innovative urban development projects, down to our small businesses and local communities," says Jerry Cito, NYC & Company Executive Vice President for Convention Development. "As we continue to recover from the pandemic, the hospitality, tourism and meetings industry is presented with a unique opportunity to build back more sustainably, and what better place for planners to drive these conversations and do business than NYC." 
In the meantime, Central Park and other timeless green treasures provide perennial reference points and options for planners and organizers. Laid out by Vaux and later developed by Olmsted's firm, the New York Botanical Garden in the Bronx, established in 1891, features 50 acres of old-growth forest and versatile spaces such as the 1,000-person capacity Victorian-style Enid A. Haupt Conservatory.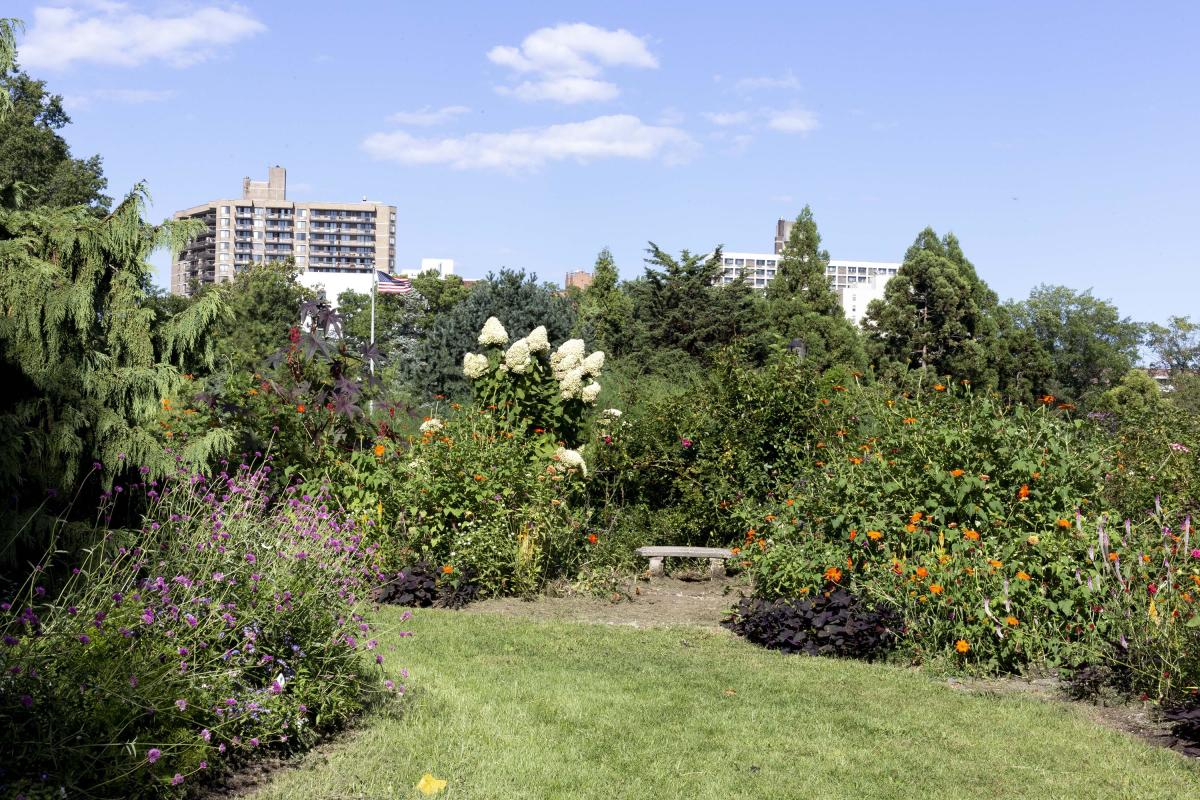 Rentals at the Queens Botanical Garden include the LEED Platinum–certified Visitor & Administration Building, along with 39 acres of lush landscapes and specialty gardens for break-out sessions and team-building activities.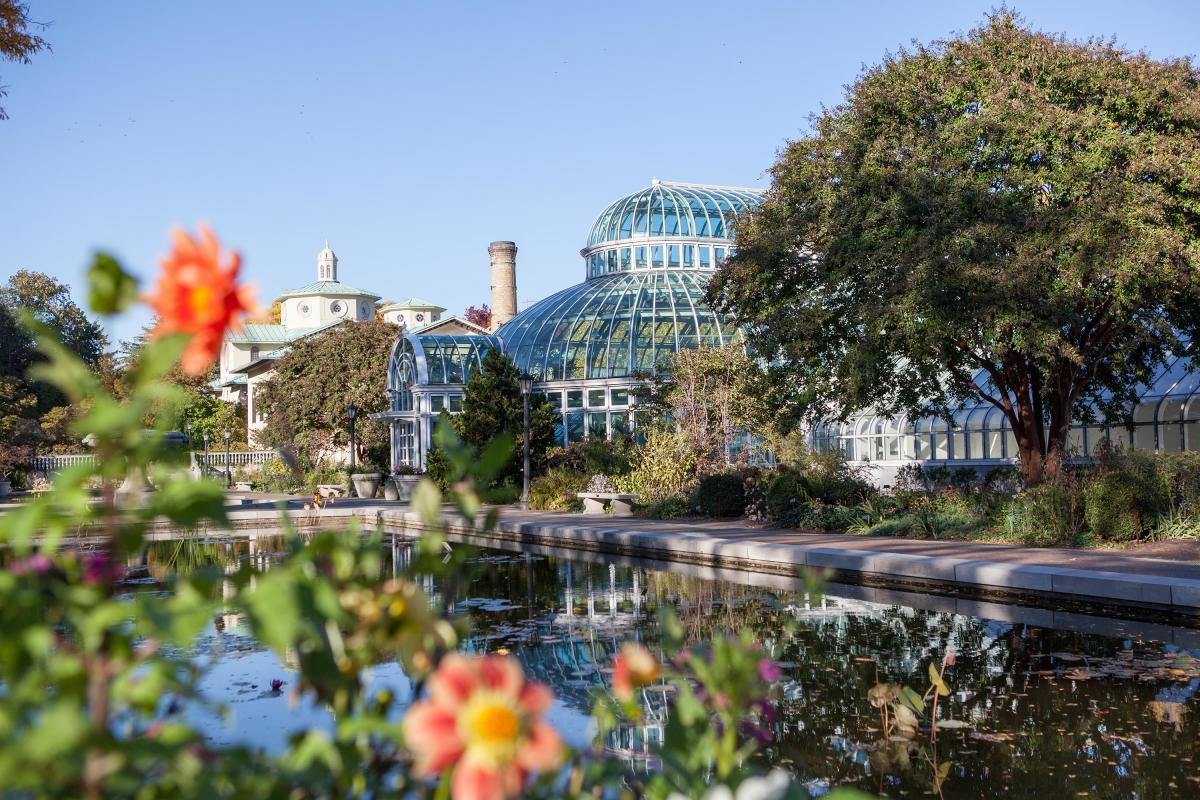 Olmsted's firm did the original site work on the 1911 Brooklyn Botanic Garden, where the 130-person capacity LEED Gold–certified Steinberg Visitor Center features geothermal heating and a living roof planted with native grasses and wildflowers. Attracting 10 million-plus annual visitors, Prospect Park, or "Brooklyn's Backyard," is yet another Olmsted-Vaux national landmark with rentals including the 1905 beaux arts Boathouse and historic Picnic House overlooking the 90-acre Long Meadow.   
Olmsted and Vaux would surely be impressed by the City of today.