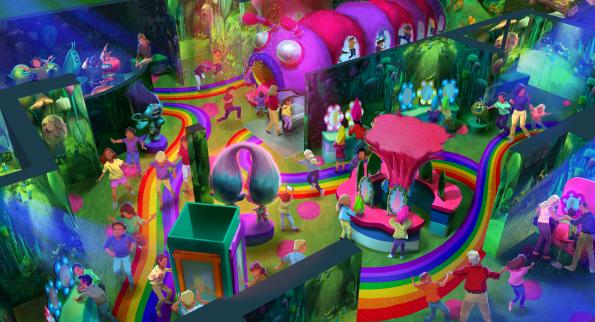 Attractions, Tours & Sports
Courtesy, Feld Entertainment inc.
Recently Opened
Museum of Illusions
Chelsea, Manhattan
An original concept launched in Zagreb, Croatia, with additional locations worldwide, the museum brings more than 70 exhibits centered on science, mathematics, biology and psychology to New York City as of September 20, with 45 illusions exclusive to the destination. Optical illusions, a didactic playroom, Mirror Room, Infinity Room and more intend to educate visitors about perception and the human brain in a playful and social media–friendly manner (newyork.museumofillusions.us).
The New York Botanical Garden Edible Academy
Bedford Park, the Bronx
An indoor-outdoor $28-million expansion of the NYBG's acclaimed garden-based education program opened in July, doubling the program's capacity to accommodate 100,000 annually. Sustainably designed by the architecture firm Cooper Robertson, the campus includes a 5,300-square-foot building with demonstration kitchen and tech-enabled classroom, a teaching greenhouse, two outdoor pavilions—including one at treetop level—a tiered lawn amphitheater with seating for 350 and a spacious garden (nybg.org).
Domino Park
Williamsburg, Brooklyn
Opened June 2018 and designed by the same architecture firm behind the High Line, this public park integrates the history of the landmarked Domino Sugar refinery building that operated on-site for more than a century. The park also features a waterfront esplanade with views of the Manhattan skyline and Williamsburg Bridge (fieldoperations.net).
LGBT Memorial
Meatpacking District, Manhattan
In June New York's official monument honoring the LGBTQ community—including victims of hate and intolerance and those lost in the Orlando Pulse nightclub shooting in June 2016—was unveiled in Hudson River Park. Glass that connects nine boulders situated in a circular pattern is designed to project a rainbow pattern when refracting light, symbolizing the color spectrum that has come to represent the community's diversity (governor.ny.gov).
City Chic Experiences
Citywide, Bespoke Itineraries
As of this summer, affluent travelers to NYC seeking VIP experiences can enjoy curated tours led by niche ambassadors inclusive of black-car transportation. Intimate groups of 10 or fewer will enjoy behind-the-scenes access and hands-on immersion with leading venues, influencers and thought leaders in the focus areas of gastronomy, fashion, beauty and personal styling, arts and design, fitness and wellness (citychicexperiences.com).
Ocean Wonders: Sharks! at New York Aquarium
Coney Island, Brooklyn
The Wildlife Conservation Society's New York Aquarium opened an exhibition entitled Ocean Wonders: Sharks! this summer. The 57,000-square-foot building houses more than 115 species of marine wildlife, including sharks, skates and rays (nyaquarium.com).
Houdini Museum of New York
Midtown Manhattan
A centrally located permanent location of this niche museum opened this year within the headquarters of Fantasma Magic—a leading manufacturer of magic tricks—as an affordable, unique activity for families, school groups and magic enthusiasts. Boasting more than 1,500 pieces of "Houdiniana," the museum displays rare publicity posters, escape restraints, props and more memorabilia on its guided tour, paired with a magic gift shop (houdinimuseumny.com).
Zip Line and Nature Trek at the Bronx Zoo
Fordham, The Bronx
The Bronx Zoo opened a zip line in the summer of 2017, which takes riders 45 feet above the Bronx River, in addition to Nature Trek, a kid-friendly adventure course that includes a tree house and nature-themed playground (bronxzootreetop.com).
Upcoming
Instagram-able Experiences
Locations Across Manhattan
Immersive temporary experiences have been popping up across New York City from summer 2018 and into the future. Current and upcoming standouts include Color Factory which opened this summer in Soho offering 16 rooms with local artists collaborations; Museum of Pizza, open Oct. 13-28 at The William Vale; Mickey: The True Original Exhibition opening in November to celebrate the 90th anniversary of Disney's most beloved character; Dream Ship DestiNY by Cipriani and Moment Factory, a multimedia voyage to New York set in Lower Manhattan's historic Cunard building and returning for the holiday season after a successful summer pop-up. (colorfactory.co) (themuseumofpizza.org) (partners.disney.com) (dsdestiny.com).
DreamWorks Trolls © The Experience
Midtown West, Manhattan
Set to open November 15, this 12,000-square-foot immersive attraction includes Cupcakes & Rainbows café and a gift shop. Families are guided on an interactive rainbow path with vibrant, shareable social moments. Children enjoy a sing-along dance party—enhanced by 3D glasses and DJ Suki—with Poppy and Troll Village friends. Collectables, makeover accessories, temporary tattoos and a starter scrapbook are complimentary mementos (trollstheexperience.com).
2018 Qatar Airways New York City E-Prix
Red Hook, Brooklyn
The fully electric Formula-E racing championship will return to Brooklyn for its third year July 13–14, 2019. Serving as the final two rounds of the 2018–2019 season of the ABB FIA Formula-E Championship, drivers reaching speeds up to 140 mph will navigate 14 turns along the Brooklyn waterfront with views of the Manhattan skyline in the background (fiaformulae.com).
WrestleMania 35
New York/New Jersey
New York and New Jersey will play host to WrestleMania 35 come April 2019, welcoming the WWE's annual pop-culture extravaganza to the New York City area. In addition to the showcase at MetLife Stadium on April 7, various programming and events will take place throughout the week at Brooklyn's Barclays Center (wwe.com).  
Luna Park Expansion
Coney Island, Brooklyn
Coney Island's iconic amusement district—home to national treasures The Cyclone and The Thunderbolt—will welcome a new adventure park with ropes course and zip line in 2019, with a log flume to follow in 2020. Additional elements of the adventure park will be a public plaza including open air dining and an arcade, plus a nostalgically lit entrance leading from the subway. In all, the Luna Park attractions area will increase by 50 percent from 300,000 square feet to 450,000 square feet (lunaparknyc.com.)
Bronx Commons & Bronx Music Hall  
South Bronx
In 2019 the Melrose Commons neighborhood expects to welcome a 426,000 square foot arts-based, mixed-used affordable housing and community development project including 305 apartments, 22,000 square feet of retail, green space & a public plaza. Bronx Music Hall is a 250-seat music and arts venue integral to the development. Envisioned to honor the Bronx's diverse musical legacy, including that as El Condado de la Salsa (The Borough of Salsa), the venue will also evoke the destination's designation as the birthplace of hip hop, a home to two major centers of early R&B and a thriving jazz scene. Today, the drums of the Garifuna, the plucked kora strings from the Gambia, and bachata from the Dominican Republic are the neighborhood soundscape (whedco.org.)
American Kennel Club's Museum of the Dog
Murray Hill, Manhattan
In February 2019, 30 years after relocating to Missouri, a museum boasting one of the largest collections of canine-related art in the world is set to return to New York City. Upon opening at headquarters for the American Kennel Club, it will showcase over 700 original paintings, drawings, watercolors, prints, sculptures, bronzes and porcelain figurines of man's best friend (museumofthedog.org).
QC Terme Destination Day Spa
Governors Island
Three of Governors Island's historic buildings will be converted into a 78,000-square-foot waterfront-facing day spa, including spaces for saunas, two restaurants, treatment rooms and outdoor pools with unobstructed views of the Lower Manhattan skyline and Brooklyn Bridge. The spa is anticipated to open in 2021 (govisland.com).
Bronx Point & Universal Hip-Hop Museum
Lower Concourse, Bronx
A $300 million project to reshape an area along the Harlem River into a cultural hub for locals and visitors to enjoy is underway. In addition to a 2.3-acre waterfront esplanade, 600 units of affordable housing, an outdoor theater and new food hall, Bronx Point is set to be the home of the Universal Hip-Hop Museum, where curators will seek to preserve and celebrate hip-hop culture through an immersive experience including thematic music, artifacts, video, photography and live performances. Set to break ground in 2019, the project is scheduled for competition in 2022 (nycedc.com).