Spring in New York City is all about new beginnings, like the start of baseball season and the budding of cherry trees in city parks. Your clients can visit a cottage in the Bronx where famed American author Edgar Allan Poe briefly lived, ramble among old-growth trees in Manhattan's Central Park, take in a basketball game at Brooklyn's Barclays Center, visit an outdoor sculpture museum in Queens and see a classical Chinese garden on Staten Island.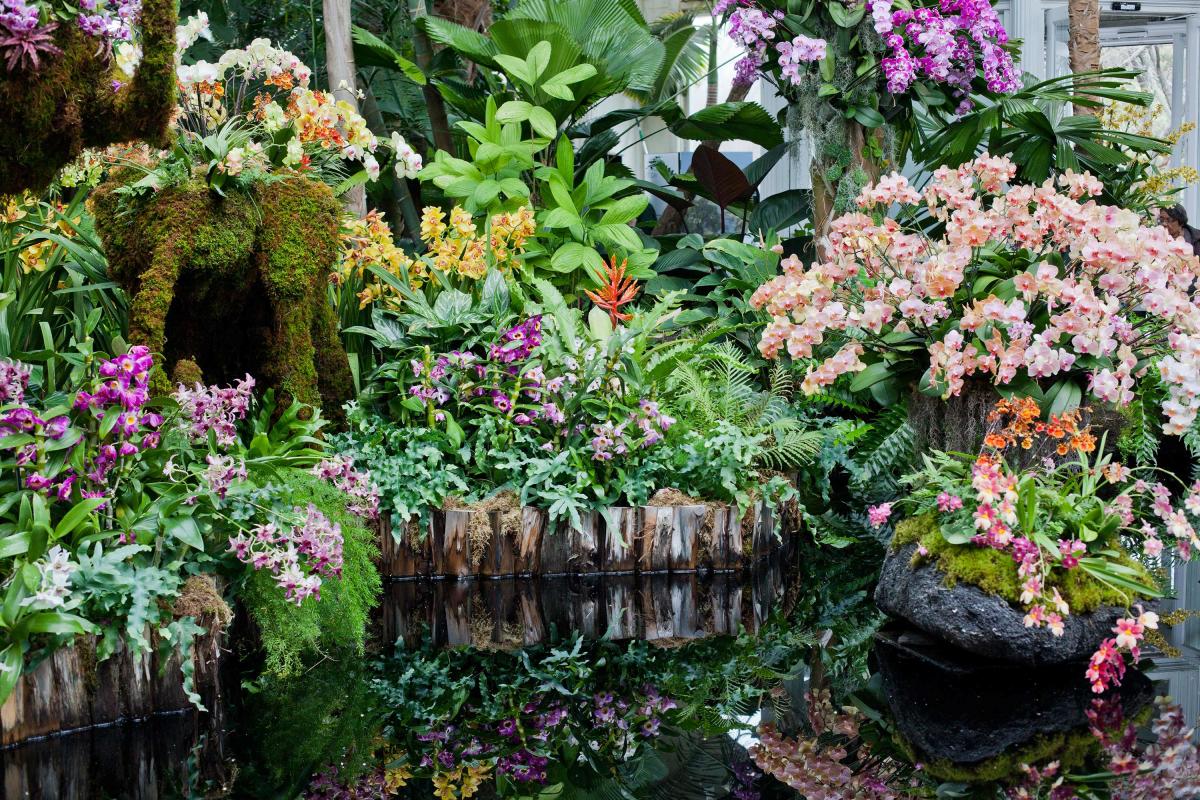 New York Botanical Garden. Photo: Christopher Postlewaite
The Bronx
Each April and March the Bronx's New York Botanical Garden fills its glass-walled, Victorian-era conservatory with thousands of orchid blooms. Your clients can also hike through woodlands, sprawl out on Daffodil Hill and take in all manner of ferns, trees and wildflowers in the 3.5 acre (14,164 square-meter) Native Plant Garden.
Art deco and art moderne architectural masterpieces line both sides of the Bronx's four-mile-long Grand Concourse, which was modeled after Paris' Champs-Élysées. Your clients will also find plenty of galleries, museums and restaurants along the thoroughfare.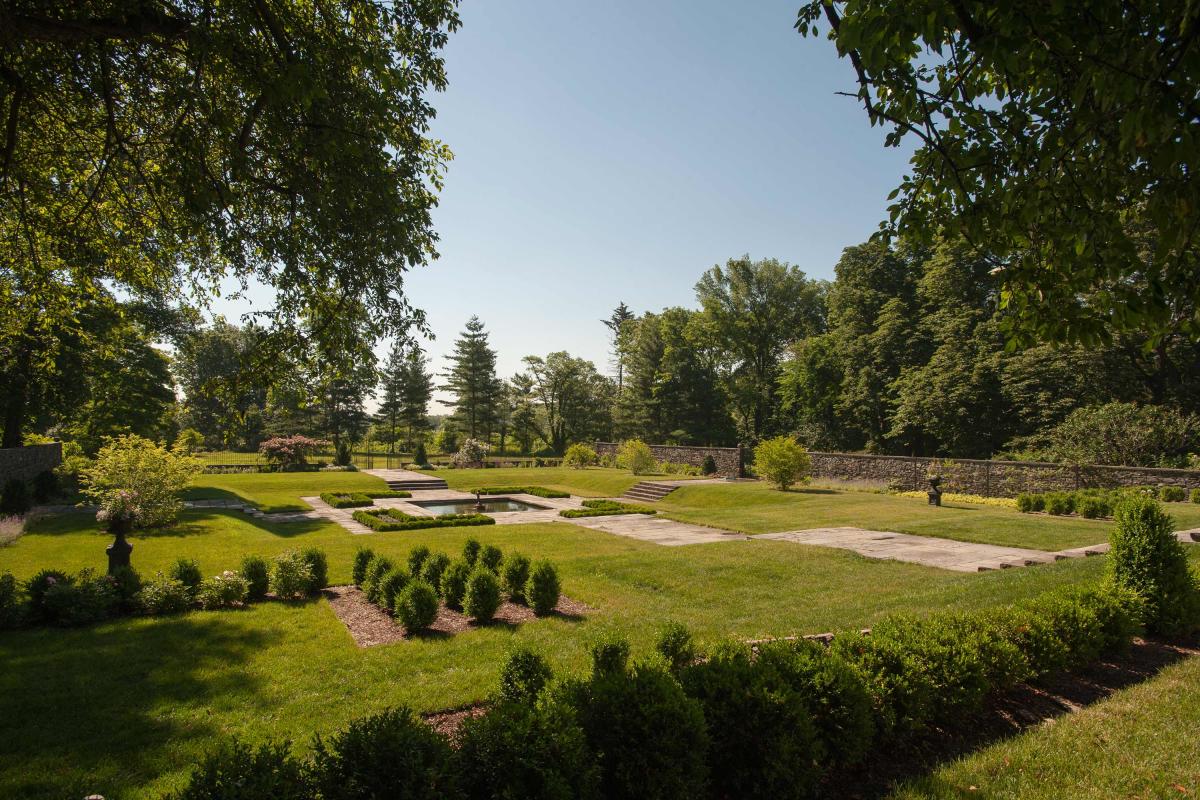 Bartow-Pell Mansion Museum. Photo: Julienne Schaer
Another borough gem is the Bartow-Pell Mansion Museum, a carefully restored Greek Revival house with a six-acre formal garden that was laid out in 1916. The museum is set within vast Pelham Bay Park, a green space that's three times as large as Manhattan's Central Park and just as ripe for exploration. There's also the Edgar Allan Poe Cottage, where the noted author of "The Masque of the Red Death" and "The Raven" spent his final years. Your clients can tour his former home Thursdays through Sundays, and a free audio guide is available in several languages.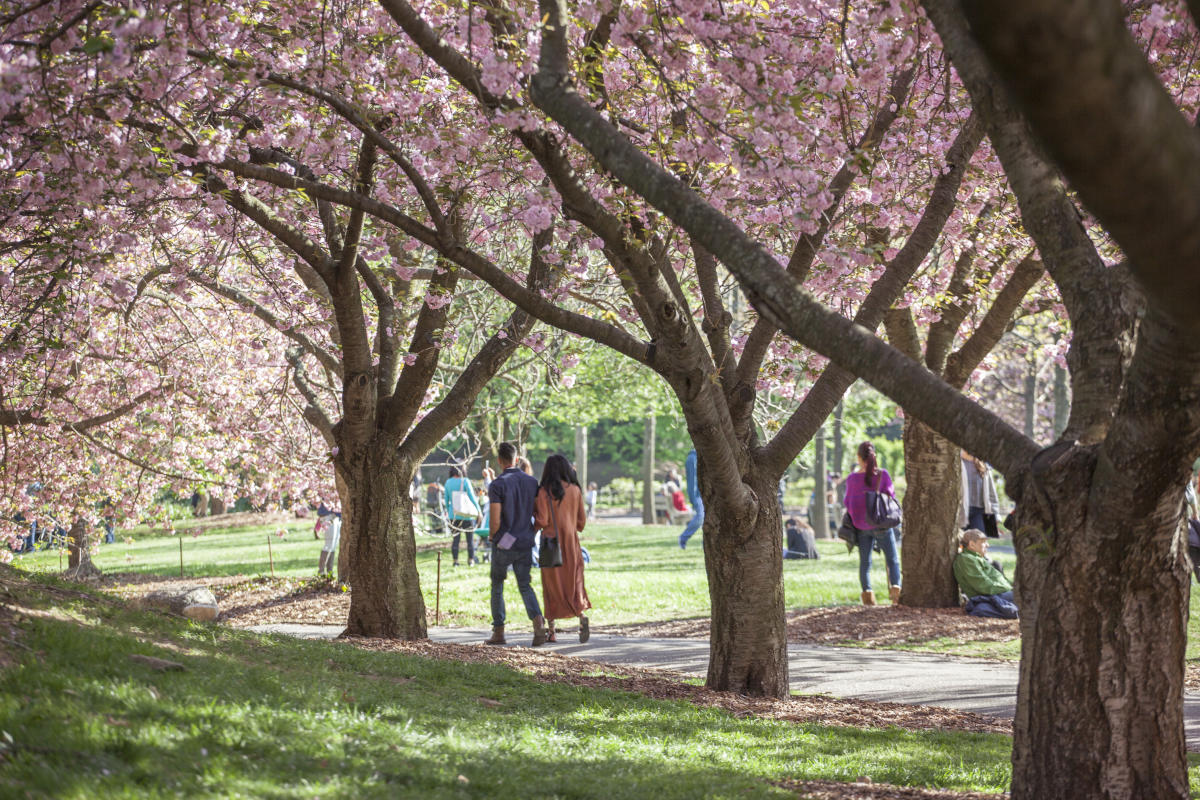 Brooklyn Botanic Garden. Photo: Tagger Yancey IV
Brooklyn
The lush 52-acre Brooklyn Botanic Garden in Prospect Heights has more than 18,000 varieties of plants from all over the world, including hundreds of cherry trees from 26 different species and cultivars that bloom from late March through mid May. Visitors can enjoy diverse events celebrating Japanese culture at the garden's Sakura Matsuri festival, held one weekend each spring. The borough is also home to the massive Barclays Center arena, where clients can take in a concert or a Brooklyn Nets basketball game.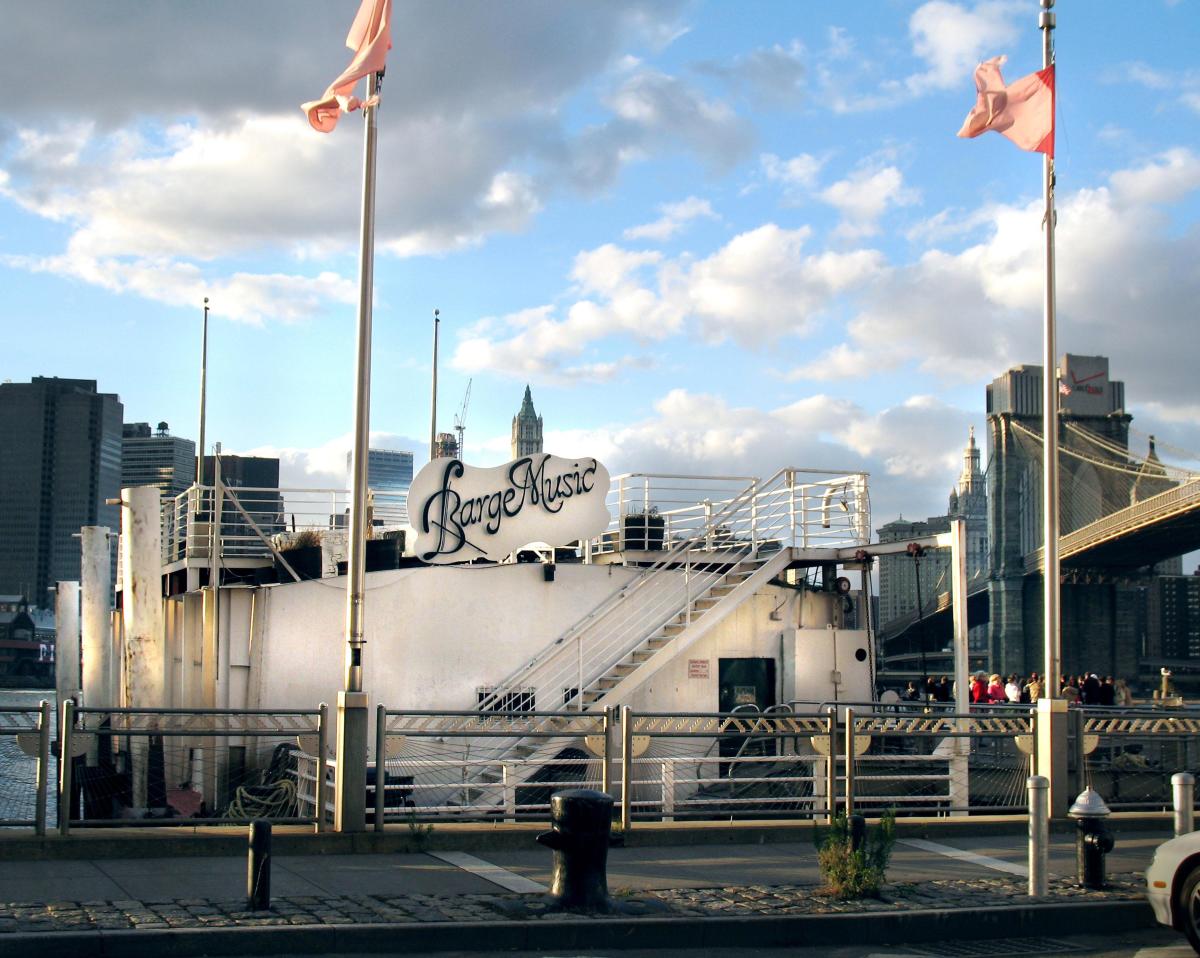 Courtesy, Bargemusic
The 85-acre Brooklyn Bridge Park in Brooklyn Heights is an unforgettable backdrop for a spring stroll along the banks of the East River. Bargemusic, a floating concert hall permanently anchored in the park, presents a program of chamber music year-round. The neighborhood is also home to the main branch of the Brooklyn Historical Society, which dates back to 1863 and houses artifacts and artworks representing Brooklyn through the ages. A second branch in Dumbo's waterfront development explores the history of the borough's maritime industries, and St. Ann's Warehouse, a renowned avant-garde theater that was once a tobacco factory, is right next door. Turnstile Tours probes the nearby Royal Dinges Factory, where visitors can learn to make the Liège waffles that launched a fleet of Wafels & Dinges food trucks.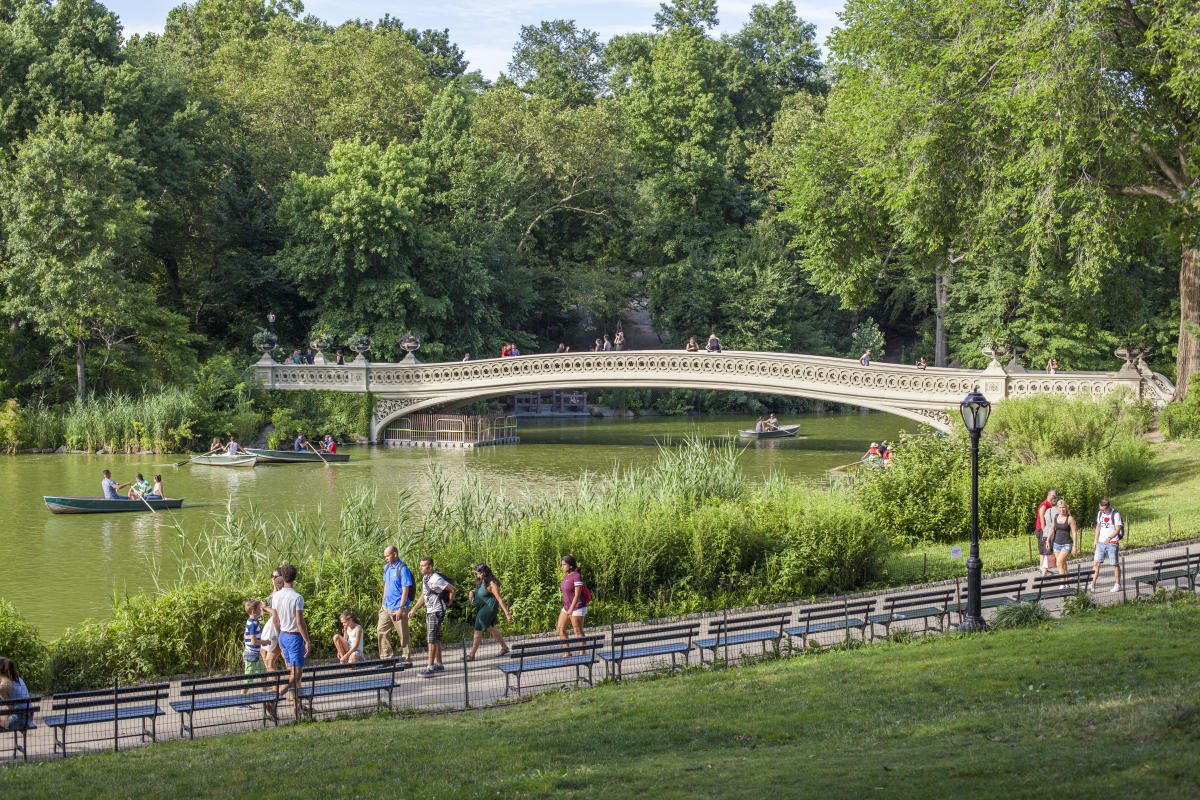 Central Park. Photo: Christopher Postlewaite
Manhattan
World-famous Central Park includes landmarks like the newly restored Belvedere Castle, Bethesda Fountain, Bow Bridge and Tavern on the Green, a swanky restaurant that dates back to 1934 and has been featured in many films, including Arthur and Ghostbusters. Strawberry Fields, a tribute to John Lennon, is a must-see for fans of the Beatles, and the park's four-acre (16,187-square-meter) Hallett Nature Sanctuary is an ideal location to see wildflowers in bloom throughout the spring. The Central Park Zoo is one of the oldest in the country and home to hundreds of animals, including chinstrap, gentoo, king and macaroni penguins.
After exploring the park, your clients can get a dose of culture at one of the many museums nearby. The sleek Museum of Arts and Design, situated opposite Columbus Circle near the southwest corner of the park, celebrates contemporary and historic art, craft and design. The stately Met Fifth Avenue, where your clients can view more than 2 million masterworks collected from around the world, sits along the park's eastern border just north of the 79th Street Transverse. Clients looking for an exclusive experience can book the EmptyMet Tour, a private journey through the museum during the hours it is normally closed to the public. The tour is led by a knowledgeable guide, providing a rare and intimate look at over 5,000 years of art.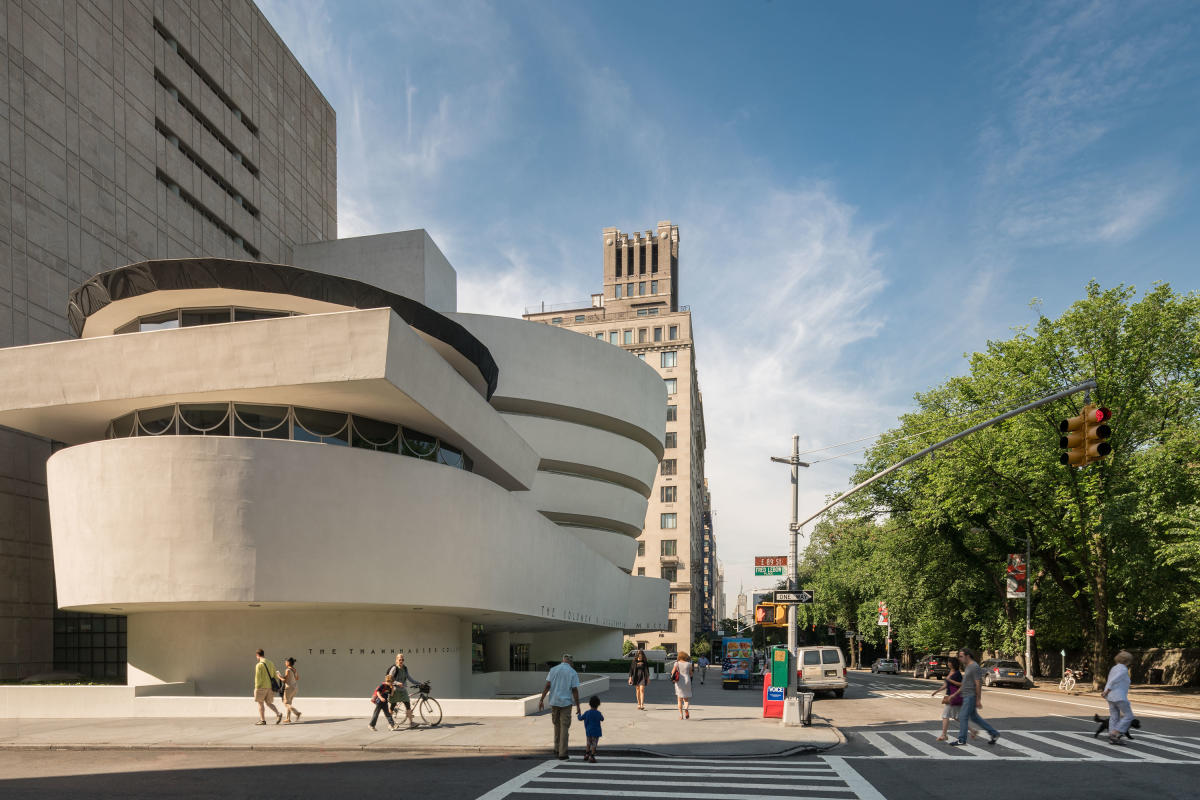 Solomon R. Guggenheim Museum. Photo: David Heald 
A few blocks north is the iconic Solomon R. Guggenheim Museum, which was designed by Frank Lloyd Wright and has both modern and contemporary art on display. There's also the newly renovated Museum of Modern Art (MoMA), which has almost 200,000 works of modern and contemporary art in its permanent collection, including Frida Kahlo's Self-Portrait with Cropped Hair and Vincent van Gogh's The Starry Night.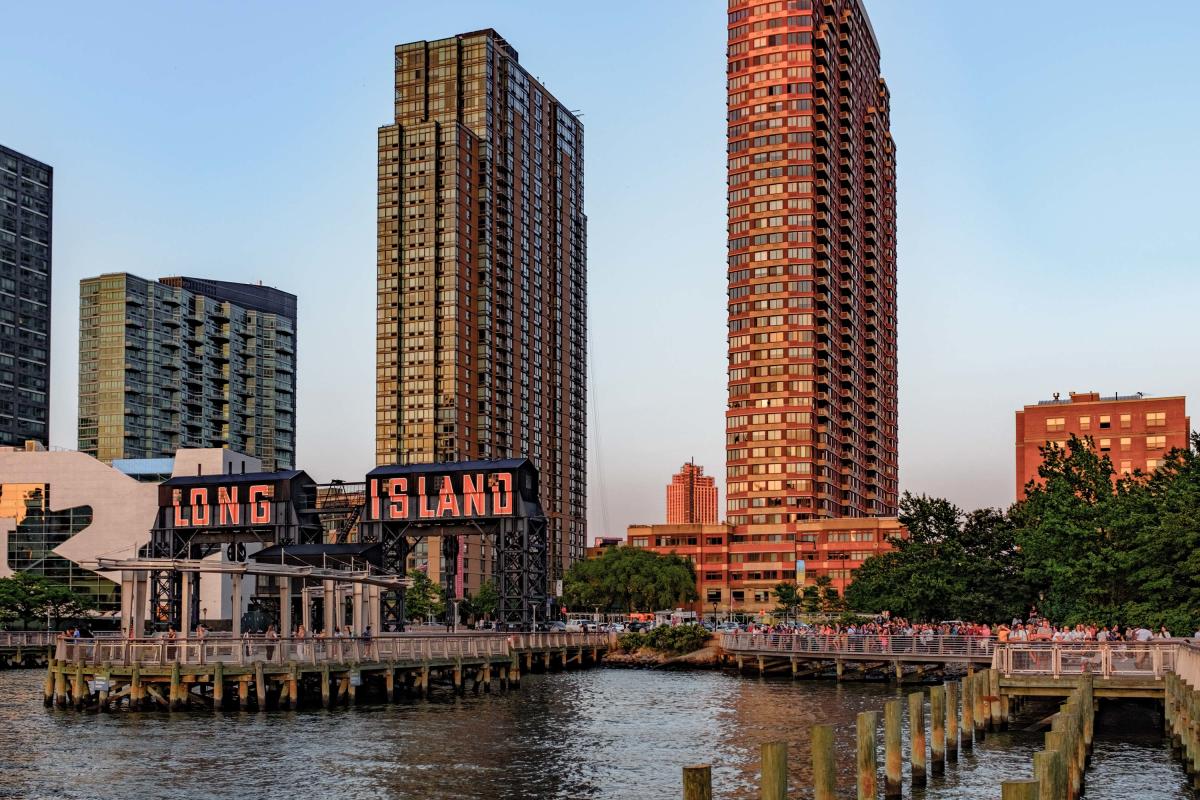 Gantry Plaza State Park. Photo: Michelle Rick
Queens
Long Island City's waterfront is a relatively new park—Gantry Plaza State Park—with a boardwalk, bike riding lanes and comfortable seating. The park is also where NYC Ferry drops off and picks up several times daily.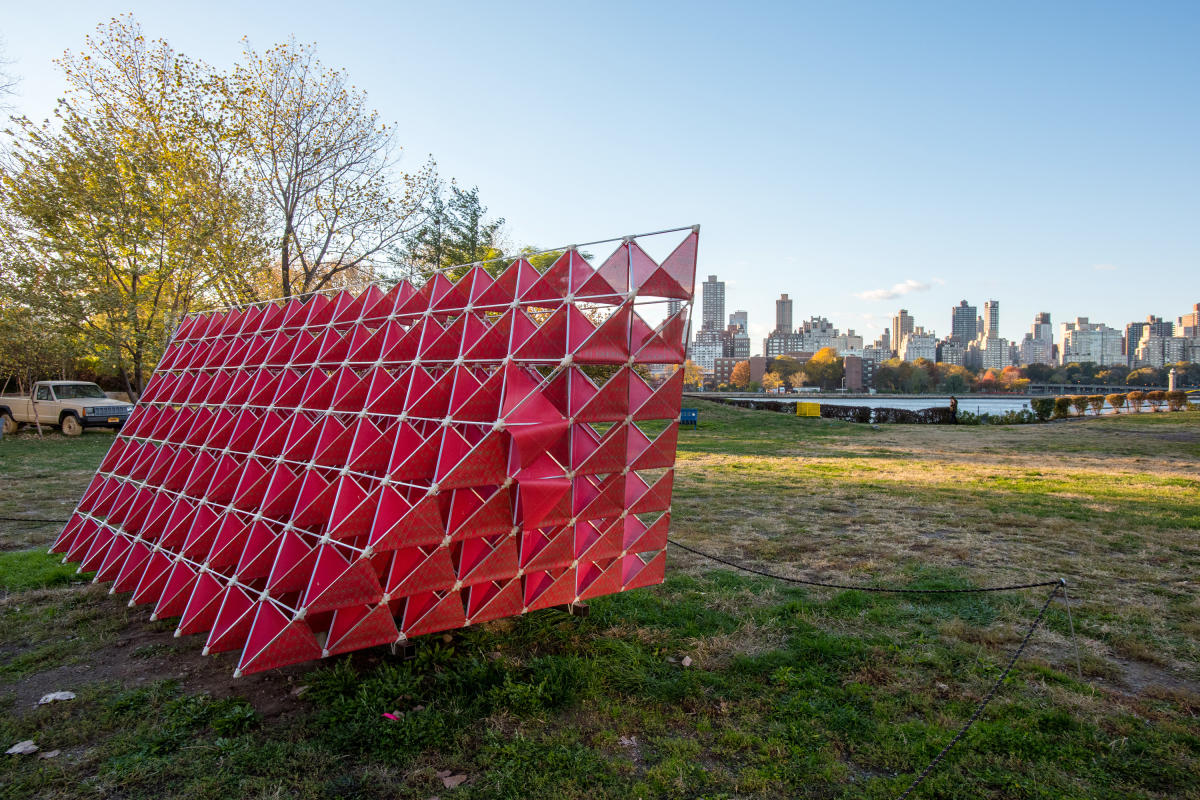 Socrates Sculpture Park. Photo: Julienne Schaer
Socrates Sculpture Park, a former trolleycar factory turned outdoor arts space with innovative rotating exhibitions, has fantastic views across the East River to Roosevelt Island and the glass-and-steel towers of Manhattan. The Noguchi Museum, a 27,000-squarefoot (2,500-square-meter) gallery founded and designed by Japanese-American architect and sculptor Isamu Noguchi, is just around the corner. The institution is home to the world's most extensive collection of his designs, drawings, models and sculptures. Continuing on the art trail by a short bus or taxi ride is SculptureCenter, an industrial gallery that presents short-term exhibitions from emerging and established artists.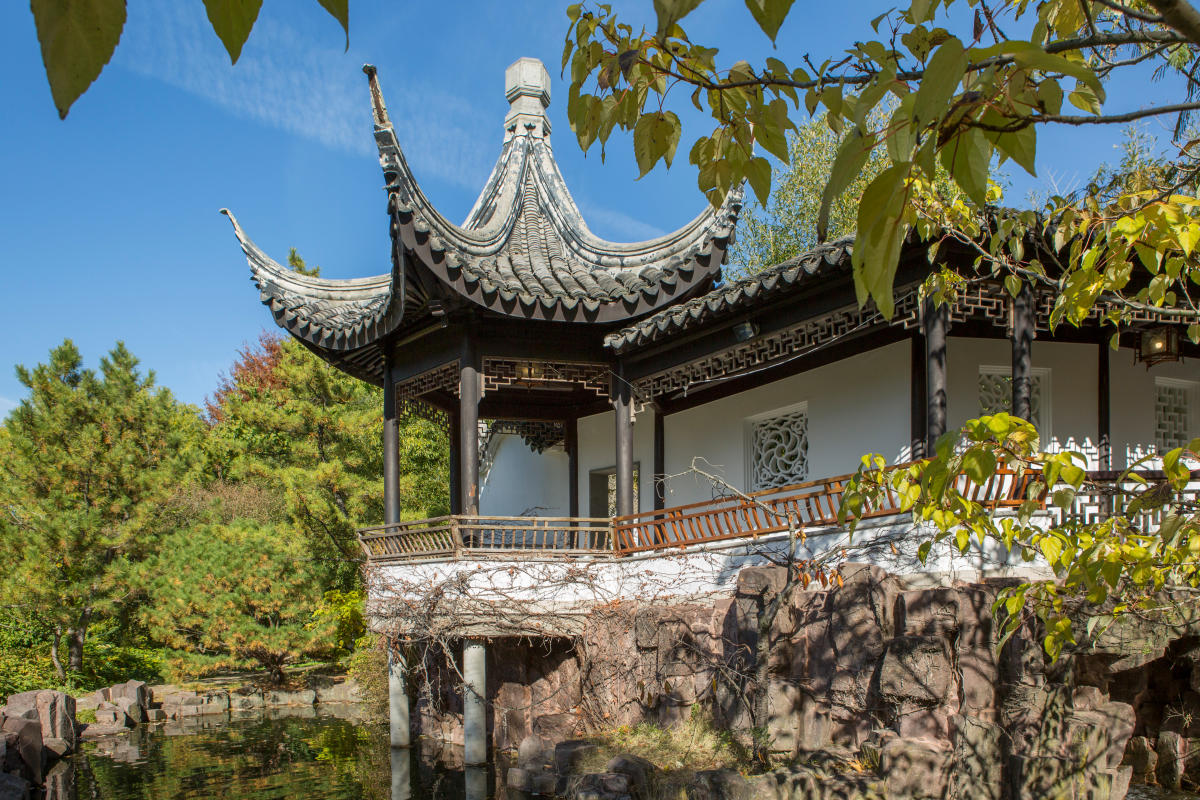 New York Chinese Scholar's Garden. Photo: Julienne Schaer
Staten Island
In Randall Manor, your clients can visit the New York Chinese Scholar's Garden, where a team of 40 Chinese artists and craftspeople from China's Suzhou Province worked together to create diverse landscapes that echo the formal gardens of the Ming dynasty (1368–1644). The garden, which is part of the Snug Harbor Cultural Center & Botanical Garden, has eight pavilions and a koi pond. Alice Austen House, a small museum on Staten Island's East Shore, is a bus or cab ride from the St. George Ferry Terminal. A pioneering 19th century photographer, Austen spent much of her life in the charming farmhouse where her photography equipment and prints are on display along with rotating exhibitions from contemporary photographers.
For even more that your clients can see and do, see our Spring Guide.